From time to time, global companies issue a call asking to help refresh brands' portfolios, services or develop new advertising pieces. What is it—an attempt to engage ambitious people and raise brand awareness or a move proceeding from lack of new ideas within the company's creative team?
Choice implies limits since you have to choose from a list, which already includes certain items selected by someone else. To give consumers a real freedom is to empower them to create things they really want to purchase, use or see. At the same time, this is the ultimate goal of any manufacturer—to produce something, which is 100 per cent demanded. That is where crowdsourcing comes from.
Some of the crowdsourcing campaigns are really huge and aiming at reinvigorating the company's business to some extent, while the others are quite one-sided, aiming to create another commercial or design for packaging or products. In the current review by Popsop we will be looking back at some of the consumer-engagement projects, which can be split into three major categories: New features and innovations; Commercials; and Product designs, names & logos.
Looking for innovations
Global corporations never miss an opportunity to accelerate innovation efforts, become even bigger and gain profit by launching new smart solutions—either developed within the corporate creative team or taken from 'outer environment.' Procter & Gamble through its P&G Connect + Develop program is inviting outside developers with promising product, technology, business model, method, trademark, package or design to submit their idea for a chance to strike the next game-changing deal with the corporation (the list of needs is here). According to the information on the main page of the hub "more than 50 percent of product initiatives at Procter & Gamble involve significant collaboration with outside innovators." Kraft Foods issued a similar call, encouraging developers to come up with their own solutions to improve the life of the company's consumers, e.g. millions of people across the globe. The Kraft Innovation hub is a door to cooperation with the company, which is now looking for fresh ideas in the areas of technology, products, packaging and processes, and is also inviting people to submit their new recipes and new flavor ideas. General Mills, another giant food manufacturer, also has been establishing close collaboration with inventors through its G-WIN portal, which was launched in 2009. The company is calling people to submit fresh and sustainable ideas on how to "deliver new levels of taste, health and convenience in our [General Mills] products.»
The technological giants are also ready to adopt ideas coming from outside. While Nokia is inviting its fans visit its Nokia Beta Labs to test the features and applications on beta or experimental stages, Sony Ericsson is encouraging emerging developers to add new bright ideas to its Se-Dot hub—so far, inventors have added over 1,000 smart and silly ideas.

In early 2008, Starbucks launched a website to attract people with suggestions on how to refine consumer experience within the chain. My Starbucks Idea hub collects consumers ideas in three categories— Product, Experience and Involvement—each of them can be voted for and rated by visitors. Some of the brightest suggestions can be put to work: one of the recent brand's innovations, Give a Gift, comes from there as well.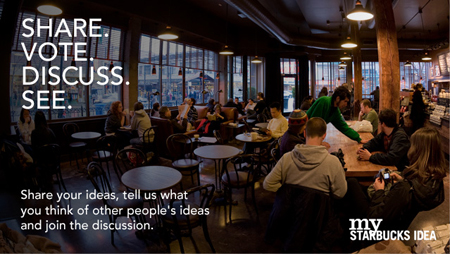 Electrolux, one of the most innovative domestic appliances manufacturer, is collecting new ground-breaking concepts through its annual Design Lab competition. The ideas, provided by the entrants are ultimately futuristic, that's why the brand hasn't launched any of them as part of its portfolio yet, but it will definitely do it over some time.

The Coca-Cola Company challenged its fans with a task to develop mobile apps for its three brands, Coca-Cola, Coke Zero and Diet Coke. The winning apps, which were chosen in mid-February, enable users to share music, give personalized challenges based on the user's profile and transform Coke vending machines into game portals using augmented reality.
Commercials
To promote the product in the most effective way, you should first ask consumers what they want to see and what can attract them—or let them create commercials themselves. There are bunches of ads which were either conceived or created from scratch by public—usually, the briefs are quite the same: be creative, don't offend, try to make it viral (like it was with Pepsi or Durex), but some of these projects really stand out.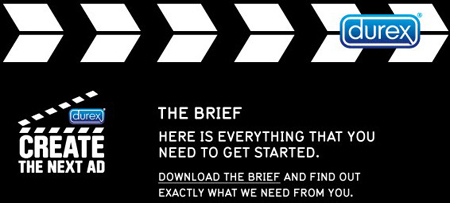 Recently, Harley-Davidson unveiled its first crowdsourced commercial dubbed 'No Cages' to highlight the brand's commitment to providing freedom of movement. The clear and lovely ad was created by the Victors & Spoils agency, which develops its works based on public's ideas—in particular, the one for the iconic bike brand was presented by Whit Hiler from Kentucky.
To support its new packaging label, in February 2010, Beck's launched a contest encouraging the beer brand fans to create a viral commercial which would prove that despite the brand revamps its image, its identity and nature remain the same. The competition was running on Poptent.net, a community for commercial video makers, and finished last March—unfortunately, the results haven't been presented to the broad audience (maybe, the winning work wasn't viral enough?). This community also hosted a competition 'We Make it Natural. You Make it Fun' for Frito-Lay, in which the chips brand was asking its fans to create viral spots, which would promote the 'all-natural' nature of its products among moms. The company stated that in 2011 fifty per cent of its products will be made using natural ingredients, and it wanted to convince women to buy Lay's, Torsitos and SunChips for their families.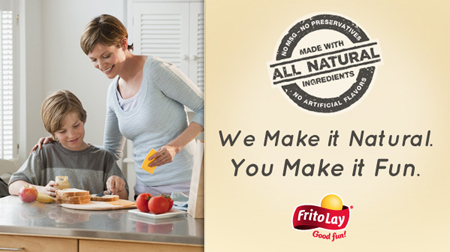 Last April, Unilever asked its consumers to create commercials for its 13 brands including Dove, Lipton, Knorr, Rexona and AXE to name a few—the winners for each brands, as well as the overall winner, were named at London Film Festival, October 13–28. The competition was running on the Mofilm platform, which is a "global community of filmmakers working with world-leading brands and distributing content to much of the globe" and hosts a number of crowdsourcing contests for global companies non-stop.

Doritos is definitely a champion in crowdsourcing—recently, PepsiCo's brand launched three massive campaigns encouraging its fans from all around the world come up with their own viral commercials. In the UK it kicked off 'King of Ads: Make an Ad, Make a Fortune' providing its creative fans with a unique opportunity to win up to £200,000. Now, the competition is closed and the prizes are given to the best creators—the major winner of the contest is Graig Young's ad called 'Attack on Westminster.' The same contest was kicked off in Australia as well. Last year, the brand also provided its Canada amateur filmmakers with a chance to make it huge creating ads through the Doritos Viralocity competition, in which Doritos also encouraged undiscovered talents in the advertising sphere to submit their own contagious commercials for a chance to win $250,000.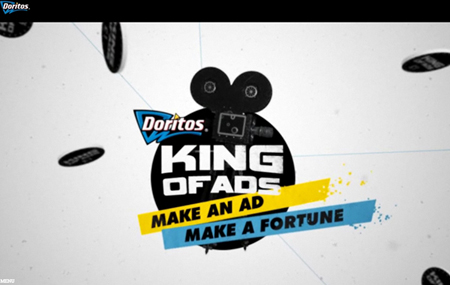 Last September, in collaboration with Pepsi MAX Doritos launched its biggest crowdsourcing initiative so far, the 'Crash the Super Bowl' competition—the brands offered their creative fans to come up with viral adverts, six of which were aired during the Super Bowl XLV broadcast. The brand said that they would give $1 million to the ad which would sweep the No. 1 ranking in USA Today's Ad Meter ($600,000 and $400,000 cash prizes were to be given to the creators of the ads which take the 2nd and the 3d place respectively). The fans did it right and managed to occupy two winning positions—the first (Doritos 'Pug Attack' ended up there) and the third ('House Sitting' took the bronze).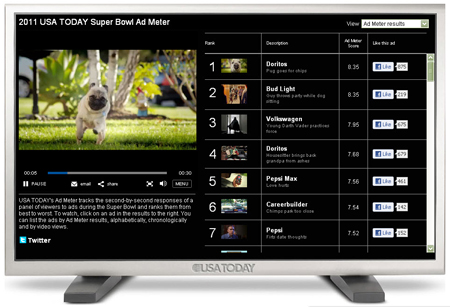 Product designs, names and logos
This February, the snack brand again put its destiny in hands of public—now in Canada—allowing its fans to shape its portfolio… by making up a proper ending for the unfinished commercial. Doritos offered its fans an opportunity to decide which of the two new versions—Flavour A (Onion Rings N' Ketchup) or Flavour B (Buffalo Wings N' Ranch)—should live and which should be destroyed. Now, the submission period is over and public is voting for finalists. The fourteen of the best works will then be judged by a panel of experts and the winner will receive $25,000 plus 1% of future sales.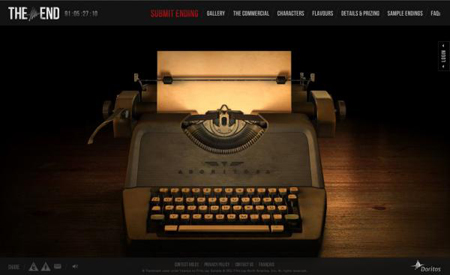 Some brands also ask its fans to develop names for the upcoming products or create new visual identity. Chiquita, which is well-known for its vibrant funny stickers, launched a competition to broaden its portfolio of stickers designs.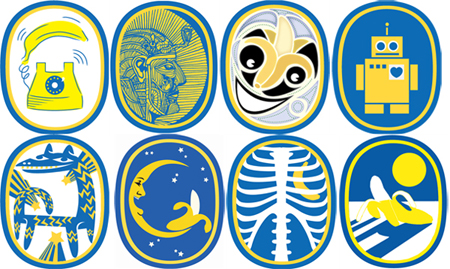 Toyota, which extended the range of Prius, was not sure which word is the preferred plural form of this name. It offered the brand's fans to choose one variant of five—with 25% of votes, Prii won the 'race.' adidas, the iconic sports apparel and equipment brands, also engaged its fans in naming by asking them to choose the best name for the Official Matchball of the London 2012 Olympic Games—that's a lot of responsibility.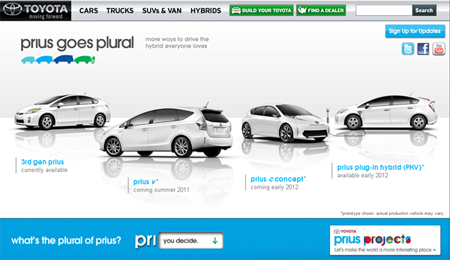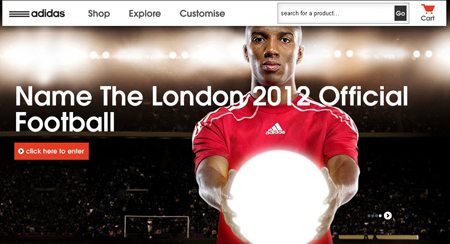 Still, the boldest, biggest and the most democratic consumer engagement project was launched by PepsiCo's Mountain Dew. The soft drink brand decided to employ fan creativity in developing products from scratch—the fans were asked to come up with their ideas as to the new products' name, design, colours, flavours and advertising. The DEWmocracy program was started in 2007, when the brand commissioned its fans with a task to create a new product, and continued with the second installation in 2009—for this time, the brand extended the program to a range of social medial platforms and launched so called Dew Labs Community.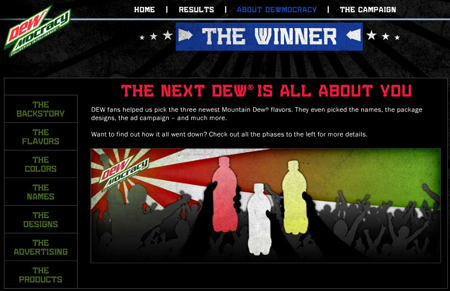 Coca-Cola, PepsiCo's major rival, also engaged its fan in creating new products for the Vitaminwater line in the U.S.—still, the campaign, which was running on Facebook, wasn't as huge as the one above. With another brand, Sprite, Coca-Cola let its Brazilian fans 'refresh their ideas' on packaging—with the best of the works to be featured on new cans. Sprite also invited four graffiti artists to create their works to inspire entrants.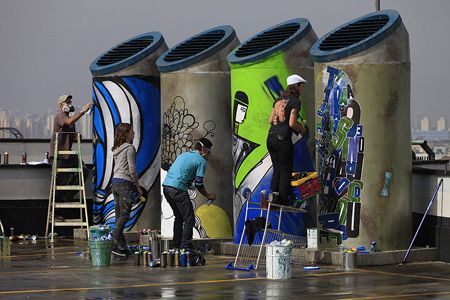 Footwear and apparel brands also use public ideas as basis for their portfolio. Last week, Wrangler announced a contest, asking its fans to create a style for the new Next Blue line—participants are asked to describe their concept in a video, designing skills are not required. Several months before, New Balance searched for the most innovative idea for an iconic and lightweight shoe— the winning work, Push Forward, was inspired by the image and performance of ultra-fast spaceship The Virgin Galactic.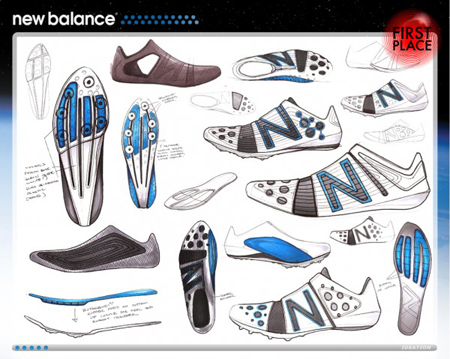 Some brands give their fans to create environment for events, like it was with Stella Artois, which commissioned students mastering in graphic and product design as well as in fashion to come up with their own designs of clothing, glasses and machines for the Stella Artois World Draught Masters 2010 competition.
In other words, crowdsourcing is a modern interpretation of the proverb 'If you want a thing done well, do it yourself.' And brands absolutely don't mind it.