Ecozone the innovative cleaning and household products company, has rebranded as it looks to broaden its appeal and convey a more witty, caring and friendly image, without sacrificing its ethical stance.
The brand overhaul by Identica is targeted at 'eco-dabblers'—middle class consumers who care about the environment and for whom style is as important as substance. It aims to convey Ecozone as 'eco-inventors', which captures both the brand's purpose and the company's all-consuming passion for better solutions.
The refresh includes a new logo on a black background designed to deliver shelf stand-out. With a nod to the brand's caring nature, it features a little heart in the Ecozone 'o'.  The pack design was inspired by the iconography of everyday life from washing instructions to weather charts to trees.
Together these icons symbolise what the products do and the brand's credentials.   The overall effect combines utilitarian style and a playful attitude.  Most importantly it challenges people's expectations of eco-FMCG—instead of being worthy and 'educational,' it is charismatic and stylish while staying true to their purpose.
Ecozone was born of a desire to help reduce consumption of environmentally damaging products by promoting more earth-friendly alternatives.  Its product portfolio includes a full range of washing and drying consumables, cleaning products and other quirky and innovative household gadgets.
Ecozone has also unveiled a range of new products, including the 'Free From' conventional cleaning products brand—this is the first time the company has entered the green cleaning market with such conventional cleaning products.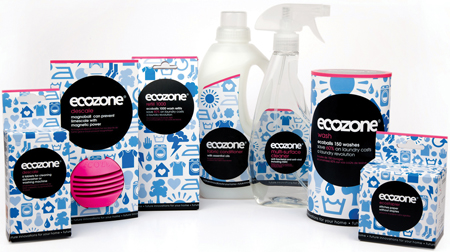 Ecozone Managing Director Simeon Van der Molen said, "The primary goal of our branding efforts was to better understand our consumers in the UK and globally as well as to refine our identity in the green cleaning market which Identica understood from the off. Our new branding is designed to reflect the vibrant and dynamic nature of Ecozone products with a logo that embodies this. Identica have been central to the development of our identity and re-emergence into the market with a completely refreshed presence centred on high-quality design."
Franco Bonadio, CEO said, "Our ambition is to help Ecozone become the iconic cleaning product brand and the new identity and packaging targets a more premium and design conscious consumer."
The new-look range of 26 products launches mid March in U.K. stores.