The 5th edition of the annual major world competition exclusively devoted to packaging design, Pentawards 2011, will be judged by an international jury (Europe, the Americas, Asia-Pacific) represented by eminent marketing specialists and designers.
5 types of awards will be given out: Bronze, Silver, Gold, Platinum and Diamond Pentawards. In order to judge comparable creations, the presented works will be grouped in 5 major categories and more than 44 sub-categories. The Pentawards ceremony will be presented on September 29, 2011 in New York, Times Square, Marriott Le Marquis.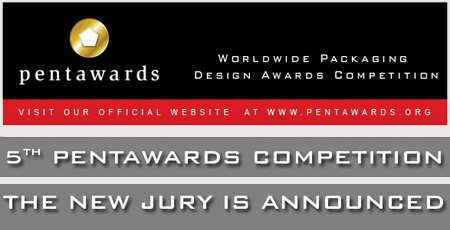 Registration will be open online from April 4 to May 20, 2011 for all packaging, or line of packaging, created or placed on the market since January 1, 2010, anywhere in the world.
Entry fee per creation submitted in a category:
Early bird—from April 4 to April 15—€150
Full registration—April 16 to May 13—€195
Last chance—from May 14 to May 20—€225
Attention: there will be no extension of the registration deadline.
The site www.pentawards.org is accessible in English, French, Spanish, Portuguese, German, Russian, Japanese and Chinese.
Pentawards 2011 jury list:
Gerard Caron (president of the jury)—Admirable Design—Paris (France)
Michael Aidan—Danone Waters—Paris (France)
Mark Cowan—Cowan Group—Melbourne (Australia)
Raf de Geyter—Procter & Gamble European HQ—Brussels (Belgium)
Dan Dittmar—Bic Corporation—Shelton, CT (USA)
Bruce Duckworth—Turner Duckworth—London & San Francisco (UK/US)
André Hindersson—Silver—Stockholm (Sweden)
Brian Houck—The Dial Corporation (Henkel)—Scottsdale, AZ (USA)
Yoshio Kato—Suntory—Tokyo (Japan)
Adrian Pierini—Pierini Partners—Buenos Aires (Argentina)
Graham Shearsby—Design Bridge—London (UK)
Jennifer Tsai—Proad Identity—Taipei (Taiwan)
Yuan Zong Lei—Jahwa Group—Shanghai (China)