Starbucks, which is celebrating its 40th anniversary this year, is releasing a new limited-edition blend to mark the occasion of the company's presence in the market for four decades. In early January, the company unveiled its revamped logo (it followed the examples of Apple and Nike and dropped the name and the circle around the siren), which now symbolizes Starbucks' strive to move beyond borders. And now the new addition to the 'anniversary pack' comes—the Starbucks Tribute Blend, which speaks to the company's heritage, is to appear in stores in a week.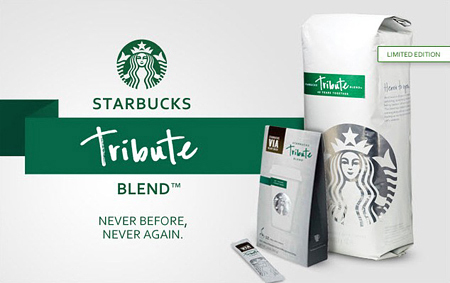 In his post to the Starbucks' blog, coffee quality manager Doug L. (traditionally, they leave only the first letter of the second name), told how the new limited-edition blend was created. "We gathered just about every kind of coffee we've ever roasted, from every corner of the globe. Our tables were jam-packed with potential components for our yet-to-be-named celebration blend. Coffees from all three of the growing regions: Latin America, Africa/Arabia, and Asia/Pacific. We had sun-dried coffees, semi-washed and washed coffees. Myriad places and flavors from which to choose. We had some 30 different blends put together in our tasting room," he wrote.
Finally, they decided to put together two most loved coffees, Aged Sumatra (used in highly acclaimed Christmas Blend and Anniversary Blend) with spicy notes and popular Sun-Dried Ethiopia with cherry notes—they created the basis for the new blend, with Colombia and Papua New Guinea adding the brighter top notes to the major ingredients. To achieve perfect taste, they had to roast the Sun-Dried Ethiopia "separately and slightly lighter than the other three components," so that it wouldn't dominate over the rest of flavors in the blend. Consumers will be able to try the final product in coming days: the new offering will arrive at the store on March 8 in whole bean or Starbucks VIA Ready Brew, but it can already be ordered online.