Yesterday, March 3, TED, the non-profit organization behind the TED Conference and TED Talks, announced 10 winners of its first Ads Worth Spreading competition, which was launched late September, 2010. The idea behind the contest was to celebrate the hilarious commercials that run longer than traditional TV Ads (up to 5 minutes instead of 30 seconds), which is enough "to make an authentic human connection" and tell an engaging and intelligent story. The top-10 list of 2011 winners includes clips, which were developed between January 2010 and January 2011 for organizations and brands including Chrysler, Intel and Target.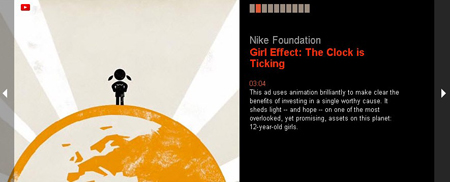 "An ad worth spreading is an ad that people truly want to see and share. It might be hilariously funny or stunningly beautiful or wickedly clever. It might encapsulate a killer idea, promote an inspiring cause, or tell a captivating story," explains TED. The winners, selected by a panel of experts based on innovation, authenticity, humor, intelligence and craft, were unveiled from the main stage at TED2011 in California (March 3) and posted to the www.TED.com on a share-able page, which was created just for the occasion and will remain there for at least a year for visitors to see them and get inspired. The videos will be also promoted via YouTube homepage and as ads across YouTube content.
Here're the winning videos along with commentaries from TED.com:
Intel—The Chase (01:55), Venables Bell & Partners
This ad makes a tech product demo as exciting as an action film—rolling all the different things one microprocessor can do into a single cinematic experience.
Chrysler—Born of Fire (02:01), Wieden + Kennedy Portland
In this spot, a classic American car-maker repositions the luxury automobile—and, at the same time, re-brands a troubled city.
Topsy Foundation—Selinah (01:35), Ogilvy Johannesburg
This ad makes effectiveness of anti-retroviral medicine vividly, visually clear — demonstrating a real hope to those who suffer from AIDS.
Savory Institute—Changing Our Future (03:43), Foresight Media
A provocative, conversation-style ad, which reveals the little-known key to reversing a devastating environmental problem.
Target—Target Kaleidoscopic Fashion Spectacular (05:31), Mother and Legs Media New York
An ingenious way to promote a product, while engaging viewers in a tangible experience.
Batelco—Infinity (03:37), Promo Seven, Bahrain
The film was originally delivered through a Facebook app that incorporated users' webcams, and displayed their pictures on TV screens throughout the Persian Gulf.
Dulux—Dulux Walls (02:00), Euro RSCG London
The ad delivers an uplifting message that life is better in color—and there is nothing that a fresh coat of paint can't make better.
Nokia—The World's Smallest Stop-motion Character Animation (01:37), Wieden + Kennedy London
This ad brings showcase and entertainment together, demonstrating a new smartphone's imaging capabilities through a magical, microscopic animation.
Nike Foundation—Girl Effect: The Clock is Ticking (03:04), Wieden + Kennedy Portland
This animated ad sheds light and hope on one of the most overlooked, yet promising, assets on this planet: 12-year-old girls.
Hornbach and HEIMAT—The Infinite House (03:00), Heimat Berlin and @radical.media
This ad presents a single idea that has the potential to make the world a better place.
Visit the dedicated page to see the Honorable mentions as well.