Levi's has presented its 2010 annual report outlining the key progress the company has made in various aspects of its business.
«It has been a critical year for us and our customers. We are pioneering in all sorts of new ways. Whether it's our approach to design and manufacturing, changing the way women think about fit, or leadership on social and environmental issues, we are thinking and acting in ways that we believe will shape the industry for years to come,» said John Anderson, Levi's President and CEO in the welcome note opening the report.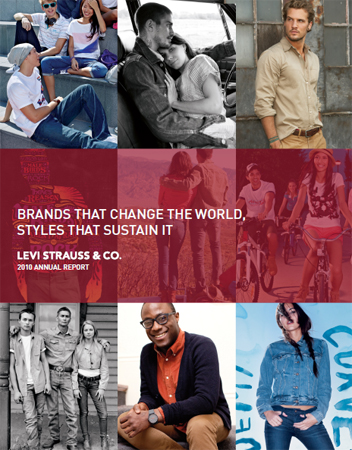 2010 Levi Strauss Annual Report
Speaking of key financial highlights, Levi's has proudly presented the following numbers:
— in 2010, Levi's net revenue grew by 7 per cent in comparison to that of 2009 and amounted $4.4  billion
— operating income increased to $381 million in 2010, vs. $378 mln. in 2009
— net income grew by 3% since the last year and amounted to $157 mln.
— net debt of the company is said to amount to $1.59 billion.
Speaking of the regional performance, Levi's boasts 8%  growth of wholesale business and net revenue in Americas. Despite the challenging economic situation in Europe, the brand saw 6 per cent rise in net revenue, which is said to result from the expansion of Levi's retail network as well as from the measures the brand took to revitalize the wholesale channel. Levi's saw a success in Asia Pacific as well, since net revenues in that region grew by 8 per cent that became possible mainly due to the expansion of brand retail network in India and China.
According to the company, 2010 for each of the brands from its portfolio was a year of steady growth. So, its biggest and most important brand Levi's saw a growth in popularity as all the innovations the company offered to the customers were a success. By listening to young customers, Levi's offered trendy skinnier styles and modern finishes for male audience, and rolled out a new CurvedID concept persuading women to pick jeans based on the pecularities of their curves, not the jean size. Also, Levi's generated a great buzz with its thought-provoking 'Go Forth' campaign and environmentally-minded 'Waterless Jeans' initiative.
Another Levi's owned brand, Dockers regained growth in 2010 due to the expansion of assortment and distribution network. Also, in 2010 Levi's tapped into the phenomenal growth in China and India, Korea and Singapore with its newly-unveiled Denizen brand.
The full text of Levi's 2010 report is available here.