ABSOLUT Vodka has partnered with director Saam Farahmand to bring a new experience entitled 'ABSOLUT Dalston' and encompassing music, dance and the art of video portraits to Londoners on April 28 and 29. The project is unveiled as part of 'Land of Kings' festival of modern music, which in its third year features a bow towards the royal couple and their wedding.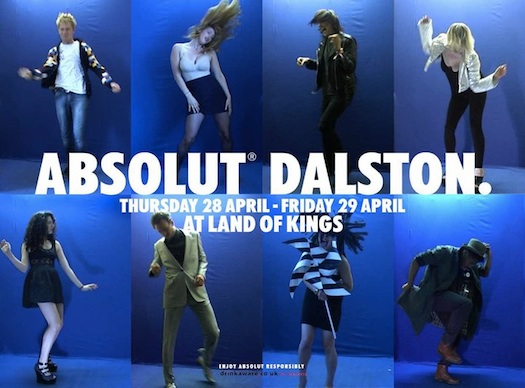 ABSOLUT Dalston experience consists of two parts. The first one took place yesterday, April 28 and included the dance party, during which Saam Farahmand took video portraits of each attendant as they danced to the music. The footage created during the 'shooting' party will be used tonight as visuals to the next party, which promises to turn into a unique audio-visual DJ event with mash-up pioneers 2manyDJs.
Today Dalston Darlings will be hosting a daytime Royal Cafe situated on top of the Dalston Roof Garden, where visitors may enjoy high tea, jean and BBQ. Passionate and unpatient couples who are dying to wed on the BIG day, will have an opportunity to enter into matrimony right here (though it will be not that legally binding).
Both ABSOLUT Dalston parties are open to 'Land of Kings' wrist-owners only. The ticket prices start at £10 per night. For more information on the venues of the 'Land of Kings' festival and its schedule, please visit the dedicated website at www.landofkings.co.uk.