Reckitt Benckiser, a name standing behind 19 renowned powerbrands like Air Wick, Dettol, Durex, Finish, Nurofen and Vanish, has found a way to raise brand awareness between its consumers and move the primary brand  into a spotlight.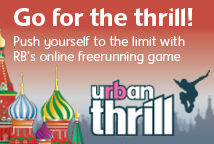 Image: www.rb.com
The company has launched an online game entitled 'Urban Thrill' featuring each of the brands from Reckitt Benckiser portfolio. The game will be available across the number of portals including Reckitt Benckiser website at www.rb.com. At the moment, every visitor to the corporate website is offered to play the game.
Its concept was developed in partnership with branding agency The Workroom and viral games specialist TAMBA. TAMBA also designed and built the game. In order to develop a truly authentic game, TAMBA worked with free running professionals as official consultants.
The point of the game is to choose a character out of young team of entrepreneurs and guide him/her through the city located in the country of your choice. The list of the countries available includes all the Reckitt Benckiser's national markets. Once the choice is made, you are to guide your character through the city, collect the powerballs and other stuff for points under a limited time.
The company expects 'Urban Thrill' to be online for about a year. The game will be promoted in social media, through news groups and gaming portals across ten markets, such as UK, USA, Brazil, Australia, India, Russia, Germany, Italy and France.
With this advergame, the company intends to improve the recall of the Reckitt Benckiser brand among the target audience: people in their 20-ties or 30-ties, graduating from college or starting their careers. Reckitt Benckiser has been actively hiring new talent as the company intends to grow.  According to New Media Age, Andraea Dawson-Shepherd, senior VP of global corporate communication and affairs at Reckitt Benckiser, said, «When we rebranded, we wanted to changed the stuffy, corporate image and reflect the culture we really have. We've always let the brands do the talking, but we're now growing so rapidly that we know how important the culture is to the business. Reckitt Benckiser still isn't widely known. We're growing awareness among people in their twenties and thirties, who make up the future talent pipeline.
"The game is designed to create awareness among graduates and people early in their business careers. We want people to know how entreprenueurial the culture here is. It makes our job so much easier if people know us and are self-selecting. We know that reaching them we have to do it via online and in social media."