Fans of flavored vodka finally have what they have been really looking for with the launch of new Pucker™ Flavored Vodka from Beam Global Spirits & Wine. By borrowing the award-winning flavor expertise of Pucker Cordials to create a distinctive vodka drinking experience, the new alcohol drink stands out as a flavored vodka worthy of being characterized this way. Unlike other flavored vodkas, Pucker Vodka relies on fruit—apples, grapes, cherries and oranges—to create its bold natural flavors.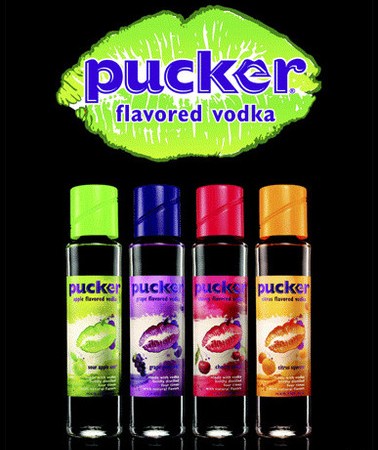 «We created a vodka for a new generation of fans who understand that the brands they choose say a lot about who they are and where they're going. As a leader and innovator, Beam Global Spirits & Wine saw this as an opportunity to reach this generation within a growing category,» said Kim Washington, Senior Director, Vodkas for Beam Global Spirits & Wine. «Pucker Flavored Vodka gives flavored-vodka drinkers the opportunity to liven up their old cocktail regime and pair with distinct tastes that perfectly suit their playful personalities.»
Pucker Vodka offers full-bodied fruit flavors that reflect the playful personalities of flavored-vodka drinkers, including:
• Sour Apple Sass: Crisp and tart Granny Smith Apple taste
• Grape Gone Wild: Fresh sweetness of concord grapes
• Cherry Tease: Tangy, deep cherry bite with a touch of berries
• Citrus Squeeze: Juicy orange and tangerine burst
Pucker Vodka is 70 proof and made using all natural ingredients. Distilled four times for clarity and smoothness with only the sweetness of all natural fruit, it provides a taste that is balanced and confident enough to enjoy with a simple mixer, served straight-up or in a playful cocktail creation. The new alcohol drink will be available in April in with a suggested retail price of $16.99 for a 750ml bottle.