In November 2010, Bombay Sapphire, which made an awesome sea-life inspired 3D projection onto the Queen's House at the Old Royal Naval College in London last fall, issued a call for new stunning ideas to be converted into a three-dimension visual picture on one of the most iconic buildings of the world. On April 1, the winner was selected—Facebook community, which voted for the most stunning work, chose the concept of the Cube of Rubic projection conceived by Erjola Veliaj from Albania to be the next Bombay Sapphire's 3D installation.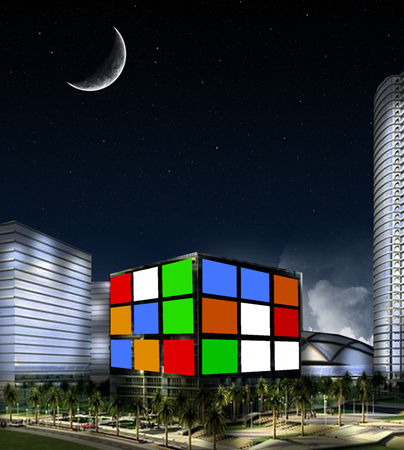 Image: concept by Erjola Veliaj, www.facebook.com/bombaysapphire
Participants of the 'Project Your Imagination 2010' competition were free to submit their idea in any form they found appropriate: drawing, music piece, storyboard, script, video, or digital piece—everything that could render the idea properly, demonstrate the imagination and inspire people all around the globe worked.
The Facebook community selected nine local winners—one for each country (Albania, Lithuania, the UK, the U.S., Australia, Germany, Ireland, Romania, Canada)—and last week determined the overall winner, Erjola Veliaj, whose concept will be embodied in May at a location still to be announced. She will also receive £5,000 plus a Bombay Sapphire trophy at the upcoming event. "This projection is supposed to be created in the form of an interactive game where the audience can solve the famous Rubic puzzle," wrote Veliaj in her description to the project.
The second place was scooped by the lovely floristic concept, developed by Marius Zaveckas and Rimas Valeikis from Lithuania. The creators explain their work as follows, "Evolution reflects the imagination of the Earth. The fantasy of nature gave birth to its surprising combinations. One of its strangest creations is a man, who himself has an ability to imagine and create. His fantasy intervenes in the processes of nature and changes evolution in unpredictable directions."
The winning entry as well as the concepts presented by eight runner-ups, who will be invited to the grand event as well, can be viewed here.