Beginning March 31, the Coca-Cola Perfect Harmony collaboration invites American Idol fans to help write a new song for Coca-Cola that will be performed during the show's season finale May 25 at 8/7c on FOX. Fans can visit www.AmericanIdol.com where they can listen to the opening segment of a song penned by multiplatinum singer-songwriter Taio Cruz.

Image: www.thecoca-colacompany.com
Perfect Harmony is part of a new Cola-Cola music program that offers teens the inside track to the latest in music through opportunities to express themselves and collaborate with popular artists. This program kicked off 2 weeks ago when, live from London, Maroon 5 headlined the Coca-Cola 24hr Session. Fans were able to engage in the creative process of songwriting by interacting with the band as they wrote, produced and performed an original song in just 24 hours. The song is now available for download on www.coca-cola.com.
"American Idol auditions are proof that many of our fans have a passion and desire to sing professionally," said Ryan Seacrest, host of American Idol. "What we don't get to explore on camera are the many talented songwriters that exist as well. Coca-Cola has created a very exciting and innovative program that, for the first time, gives fans the opportunity to work with a top artist to create a new song that will be performed live in front of millions of people."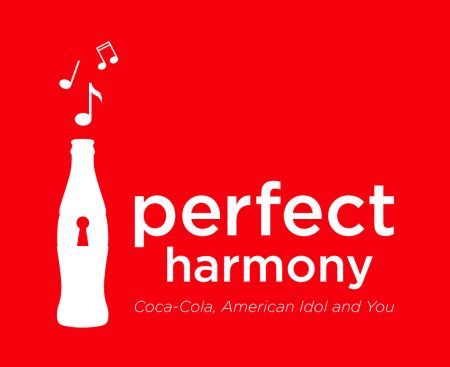 Each week, from March 30 through May 13, people around the country, ages 18 and up, will have the opportunity to submit lyrics for consideration for inclusion in the final composition. Following each of the four submission phases, Coca-Cola will select the top three lyrics and then fans, ages 13 and up, will be able to vote for their favorite. The lyrics with the most votes will then be incorporated into the song.
"Music has always been a part of our brand voice and with this program we're moving to a whole new level of integration," said Stuart Kronauge, Vice President, Coca-Cola Trademark Brands, Coca-Cola North America. "Through Coca-Cola Perfect Harmony, fans co-lead the songwriting process as they become part of the show they love in collaboration with an artist they admire. We can't wait until the American Idol finale to uncap the outcome of their musical creativity."