Electrolux, the company offering sustainable and environmentally friendly solutions for almost every aspect of household life, has organized a trend seminar in Stockholm dedicated to the subject of 'terroir' – a gastronomy trend that is rapidly attaining success in leading restaurants. Previously this term would only pertain to wine. But since it means "a sense of place" and refers to the cumulative effect that the local environment has on the taste of the product, it can be used to all food products. Terroir is about going local and eating local food, which is becoming more and more fashionable each day.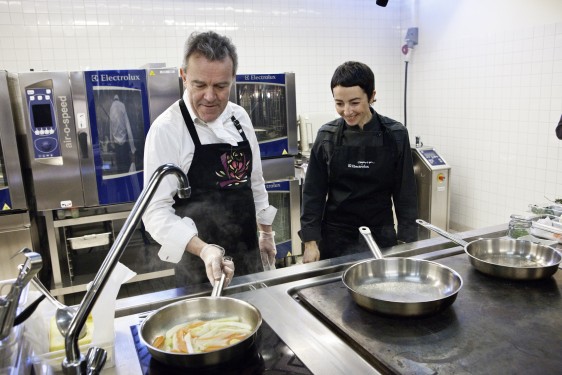 According to Electrolux, about 100 guests including high-profile restaurant chefs and gastronomy bloggers attended the event which featured the renowned French chef Alain Passard. This year, Passard received White Guide's Gastronomy Global Award, which is sponsored by the household electronics brand.
Passard passionately follows this trend and predicts its further strengthening. During the seminar, the award-winning chef was pleasing the guests as he unveiled his cooking secrets and prepared several dishes along with the team of professional cooks.
In course of the seminar, several gastronomy industry insiders gave lectures pertaining to the subject of the seminar. Magnus Ek,  who represented Oaxen restaurant in Stockholm, talked about the importance of using only local ingredients on the example of his restaurant that uses seaweed and moss from Stockholm archipelago. Lars Hygrell of Electrolux presented the lecture on the consumer insight research that the brand is currently working on.
The seminar was followed by a gala dinner at the Grand Hotel in Stockholm, where René Redzepi, founder of the renowned restaurant Noma in Copenhagen, along with Keith McLoughlin, President and CEO of Electrolux, handed the White Guide's Gastronomy Global Award to Alain Passard.
Cecilia Öster, Head of Communications in Electrolux Professional, said, «This was a successful brand strengthening event where we further established Electrolux as a strong voice within the European food-service market.»