In the world of beer brands, Stella Artois and Grolsch are recognized cinema addicts. While the first of them provides a retrospective look at the history of cinematograph with its numerous projects and hilarious retro-style campaign as well as pays tribute to the recent accomplishments in the industry by supporting the Cannes Film Festival, the second one, which also celebrates the legendary movies through its Grolsch & LWLies Presents club, from now on is mainly focused on the future. The iconic Dutch beer brand is now sponsoring the 54th San Francisco International Film Festival (SFIFF) and also presents a new program dubbed 'Grolsch Film Works' to give a hand to emerging cinema talents.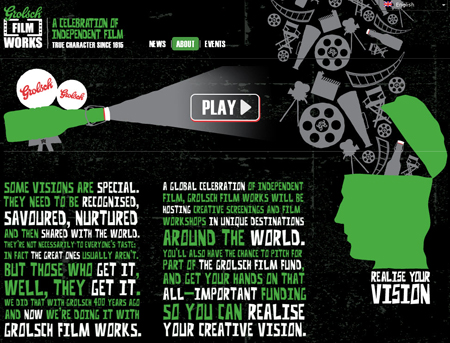 "Since 1615, Grolsch has been driven by creativity, innovation and great ideas. It is these same qualities, fundamental to independent film, that have inspired Grolsch Film Works," stated Ronald van Amerongen, Global Brand Director of Grolsch. "We are thrilled to be involved in the 54th San Francisco Independent Film Festival; it's the perfect event to kick off this exciting new direction for us—and there is much more to come from Grolsch Film Works in the coming months."
Heyuguys.co.uk reports, the project is designed "to celebrate the world of independent film making by hosting screenings around the world, giving film makers the opportunity to give their pitch for the potential of funding and helping the future film makers of the world realize their creative visions." The Grolsch Film Works is joining the ranks of similar initiatives launched by PUMA and Jameson, but the filmmaking community has to wait a bit to learn the details of the new project and then compare it to the other projects of this kind.
Photo: www.grolschfilmworks.com
So far, the dedicated website in English, Russian and Polish doesn't provide much information on the brand's plans as to the initiative's development. At the current moment, Grolsch is only covering the events at SFIFF, which is running from April 21 to May 5, by posting news, back stage footage and interviews with celebrities—one of them features actor Ewan McGregor and director Mike Mills talking about their new drama 'Beginners.' At the festival, the brand, which is its official beer, is presented in a range of SFIFF's events and venues during the Opening Night Party at the gorgeous TERRA gallery.