Miller Lite is encouraging beer drinkers across the USA to 'save their summer' by collecting Taste Points and submitting them for the chance to win epic prizes. The program running from May 1 through July 31 allows legal-drinking-age consumers to collect points found on specially marked packages of Miller Lite and by checking-in on foursquare at participating bars and restaurants for a chance to win thousands of daily and weekly, or one of three epic prizes.
To support the Taste Points program, the brand that challenges light beer drinkers to 'Man Up' is launching new TV commercials featuring the Miller Liteguards, an army of women tasked with saving men from making 'unmanly' decisions such as choosing a beer with less taste than Miller Lite. The spots, which aired first last week and run through July, direct viewers to TastePoints.com. The program is also supported by print, radio, out-of-home and digital advertising, retail point-of-sale and public relations, including appearances by the Miller Liteguards at special events around the U.S.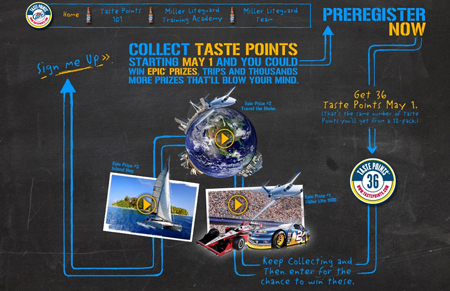 The Miller Lite Taste Points program requires consumers to be members of Facebook in order to participate, and to invite Facebook friends to enter with them for the weekly and epic prizes that are awarded to four or eight person groups. Once the required number of friends joins, the group is entered for a chance to win—consumers can create an unlimited number of groups to enter as many times as they like.
The Taste Points function like credits for redemption for entries to win prizes. Consumers can collect Taste Points by submitting official codes online, via SMS or on the Taste Points mobile site, and those who haven't already entered the maximum number of codes in a day will automatically receive Taste Points when checking in on foursquare at participating bars and restaurants.
The Miller Lite Taste Points program will award thousands of prizes, including three epics: a trip around the world, an island-hopping adventure in the British Virgin Islands and a trip to the Indy 500 and the NASCAR Sprint Cup Series race in Charlotte featuring Miller Lite driver Brad Keselowski with a private jet to get from one race to the next.
Weekly prizes include a trip to a Gold Cup soccer tournament match and a VIP golf experience at Pebble Beach, and there will also be hundreds of daily prizes such as mini-grills and backpack coolers. There even are local prizes available in many areas based on zip code.