One of the boldest youth targeted filmmaking initiatives launched last year, the Sprite Refreshing Films Program, is approaching the finish line. The soft drink brand is proud to present six films created by the finalists of the project and is encouraging Americans to visit the dedicated hub and vote for their favourite short movie by sending text messages—the team behind the winning work will head to a major film festival this summer where their movie will be screened.

The project, which evolved from the Coca-Cola Refreshing Filmmaker's Award, which was presented annually by Coca-Cola beginning in 1998, kicked off in November 2010, when the brand invited youngsters who love cinema and wanted to contribute to its future, to write scripts, become staff interns or members of the filmmaking crew. Then, experts shortlisted the entrants and formed six teams which developed their movies with the help of the industry experts—six celebrities also starred in the movies, which were filmed in NYC, LA, Chicago, Dallas, Atlanta and Miami.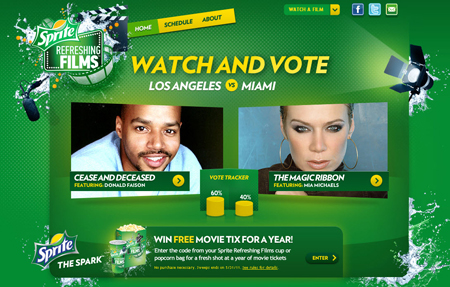 Now, the nation is to decide which of the crews did it perfectly: the SMS voting is running from April 1 to May 31, with the results available 'live' on the project's website. Now, the final round is on, in which 'Cease and Deceased' featuring 'Scrubs' star Donald Faison (LA) and 'The Magic Ribbon' starring Emmy award-winning choreographer Mia Michaels (Miami) are placed against each other (so far, the first movie is ahead). In the two previous rounds, 'Justice' starring Alexis Jordan (Chicago) and 'Fresh Studio' starring Jennifer Stone (Dallas) won. In the next phase of voting, not only public opinion will matter—a Green Ribbon Panel  of industry professionals will rate the entries based on entertainment value, casting and performance, production quality and originality, and this score will be added to the votes, which will determine the winner to be announced June 6.
«Look out Hollywood! The final cuts of the six Sprite Refreshing Films really speak volumes to the fresh talent and bold imagination of this year's Program participants,» said Augusto Elias, Sprite's Brand Director. «This Program has given students the opportunity to share their short films with people across the country who will be able to enjoy them, express their opinions and show their support by casting their votes.»
To spread the word about the project, Sprite also kicked off a promotional campaign through which the Sprite Refreshing Films trailer is promoted on more than 23,000 movie screens across the USA. The behind-the-scenes videos featuring the crews and celebrities are also posted on the website later for everyone to see how shorts and created and maybe get inspired for the new Sprite's projects of this kind.