Volkswagen has partnered with LinkedIn to run a contest for the users of the professional network based in Netherlands. In a new campaign dubbed 'LinkedUit' (LinkedOut) and intergrating LinkedIn API, Volkswagen encourages the users to challenge each other and see who's got a stronger profile on LinkedIn based on such criteria as education, work experience, number of LinkedIn connections, recommendations, etc.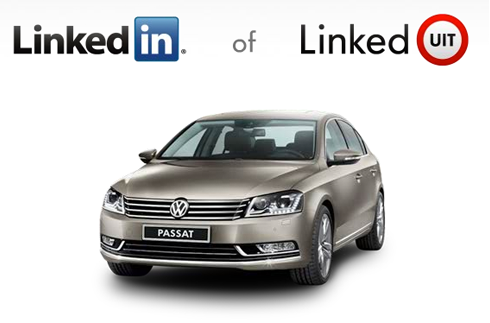 The user with the strongest profile will be awarded with Volkswagen Passat—a model traditionally considered to be a car for businessmen.
The app available at the dedicated hub of the campaign at www.linkeduit.nl lets users compare their profiles and earn points for every entry pertaining to their education, work experience, connections and recommendations.
According to mashable.com, the application is part of a campaign in the Netherlands taglined, "Nogal vol van zichzelf," which translates to "Quite full of himself."
«LinkedIn, which recently passed the 100 million member mark, appears to be virgin territory for most marketers who have focused more of their social media outreach efforts on Facebook and Twitter. But while some view advertising and marketing as intrusive on Facebook, the business-oriented LinkedIn may prove more hospitable«, says mashable.com. Other Internet news resources emphasize on the viral potential of the campaign, which may turn out to be a great success for both LinkedIn and Volkswagen.