AXE Shower and COMEDY CENTRAL Digital have teamed up to develop the AXE Dirtcathlon—a four-part Web series pitting coed teams against one another other in crazy challenges designed to get them as messy as possible within 90 seconds. The series, hosted by actor/comedian Rob Riggle, launched on www.axedirtcathlon.com.
Each episode of the Dirtcathlon pits four guy and girl teams against each other in challenges ranging from the 'Art Smear,' where contestants use every part of their bodies to recreate a work of art to 'Taxi Dash,' where the teams help each other get dressed in the back seat of an erratically driven taxi cab. Riggle, along with his co-host, comedian Owen Benjamin, provide a colorful play-by-play analysis as the coeds face off in each fast-paced, hilarious competition. There is a lot at stake in the outcome—the Dirtcathlon contestants are competing for a chance to get extra dirty and win a trip to Spain to participate in an enormous tomato fight.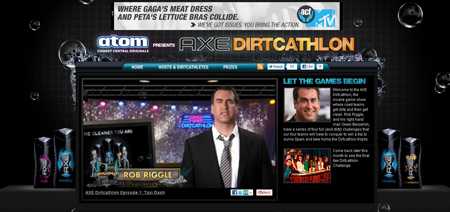 In addition to the Dirtcathlon series, AXE has launched Dirty Dilemmas, an online game asking players to make difficult decisions between two challenging scenarios: direct a dirty movie or star in a dirty movie? Shower on live television or shower in prison?
After making their choices, players can share answers with their buddies, predict how others would have answered the same questions and even submit Dirty Dilemmas of their own. The more contestants play on AXEDirtyDilemmas.com, the more points they earn towards winning great AXE Shower Gel prizes.
The Dirtcathlon, Dirty Dilemmas and the new tagline, 'The Cleaner You Are, The Dirtier You Get' are all in support of the AXE Shower re-launch in which the brand has redesigned its look and feel for 2011. With a new, click-to-open cap that can be easily used with one hand and a more modern bottle design, the futuristic look distinguishes AXE shower gel from all the rest. In addition, select shower gels will now feature enhancements in fragrance and color.