While an ITC support cane capable of measuring pulse and blood pressure that won the first prize of the Fujitsu Design Award 2011 is still a futuristic device that is unlikely to enter mass market in the near future, the latest enhancements to Ford's Sync technology designed to report health-related information may become reality in a year or two, Ford assures. The automaker is currently in the process of development of mobile gadgets to allow measuring the health metrics that are vital for the drivers diagnosed with diabetes and other chronic diseases.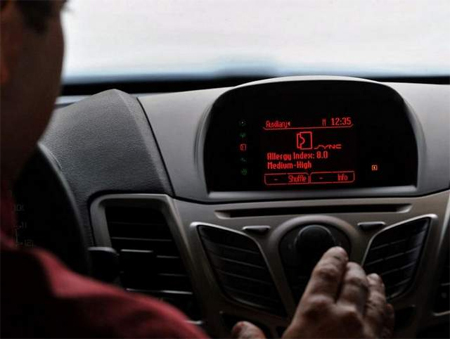 Image: www.freep.com
The latest statistic figures coming from the U.S. are appalling: 27 mln. of American citizens have been diagnosed with diabetes. More than that, according to the national Centers for Disease Control and Prevention estimates, one of every three Americans born after 2000 will develop Type 2 diabetes.
At the moment, Ford is working closely with several U.S.-based companies on bringing the mobile devices that would perform vital  bio-measurements for the drivers, such as sugar level in the driver's blood or pollen concentration in the air (which is very useful to know for the drivers allergic to pollen). The list of Ford's partners in this project include Medtronic, the Minneapolis-based medical technology company; WellDoc, a developer of medical-monitoring software, and SDI, a health care analytics company.
Paul Mascarenas, Ford chief technology officer, told Detroit Free Press that health-related measurements may be provided as a fee-based service. He also assured that this innovation would not put the driver and passengers in danger on the road since the information will not be displayed for a long time or drivers will be able to use voice recognition software to ensure safe driving.