America's salad lovers are as excited about making their salads as they are in the final result. And many of them fancy themselves as true culinary artists.These were the findings that led to a new Dole® Salads marketing campaign that uses professional celebrity artists from various non-food genres to inspire consumers to new heights of culinary creativity using Dole's line of 38 salad blends and all-natural kits.Breaking yesterday, May 4, Dole's 'Find Your Inspiration' campaign stars Canadian interior designer Candice Olson as the first in a series of non-food VIPs who apply their distinctive art form to salad creation. Other artists to be spotlighted in the campaign will include fashion designers, musicians, photographers and dancers.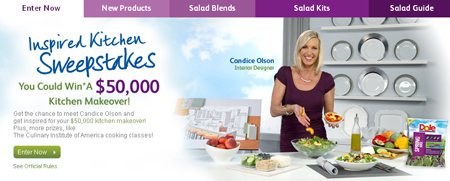 «Since salad-making is truly a form of art, Dole wanted to explore how some of the best-known professional designers and artists express themselves in the kitchen,» explained Ronda Reed, vice president of marketing for Dole Fresh Vegetables.
One of the largest salad-specific marketing campaigns in Dole history, 'Find Your Inspiration' will combine extensive digital and mobile advertising, in-store promotions, coupons and a consumer sweepstakes with dedicated Facebook, Twitter and YouTube pages spotlighting the celebrity artists.
Other campaign elements include QR and Short codes on Dole POS materials that link salad shoppers directly to new product recipes, pairings, nutrition and other information, and a PR program that features Candice Olson appearances on local TV stations across the U.S.
A highlight of the new campaign is Dole's Inspired Kitchen Sweepstakes, which gives packaged salad and culinary enthusiasts the chance to win a one-on-one kitchen design inspiration session with Olson in her home city of Toronto, Ontario, and up to a $50,000 kitchen remodel budget to implement the inspired results.
Three second-place winners will be sent to a Culinary Institute of America (CIA) campus in New York, California or Texas for a five-day CIA 'Culinary Boot Camp Basic Training' cooking vacation which includes round-trip transportation, accommodations, course tuition and materials, and a special CIA cooking toolkit.