Doritos has initiated another fight between its flavours to see which of them is the 'strongest'. Building on success of other themed advertising pieces, which included the spots for the Egyptian and U.S. markets as well as the large-scaled 'The End' promotion in Canada, where people were encouraged to 'destroy' one of the new additions, A (in the white bag) or B (in the black bag), the snack brand has kicked off a similar integrated promotion for Australian consumers at the www.battleoftheflavours.com website. Now, two new Doritos flavours, Hot Mexican Salsa and Thai Sweet Chilli, are placed against one another on the digital spot, and consumers are invited to support their favourite by suggesting the effective battle moves against the competitor.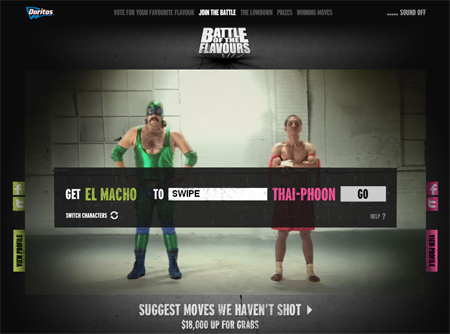 The Australian version of Doritos' Battle of the Flavours was kicked off by Clemenger BBDO, Sydney and The Smith's Snackfood Company owned by PepsiCo. Visitors to the website can view the profiles of the characters who represent the new flavours—El Macho (Hot Mexican Salsa) and Thai-Phoon (Thai Sweet Chilli),—'like' them on Facebook and follow on Twitter, and (which is the key element of the activity) suggest their own move that will help one of the pro-wrestling characters 'win the battle'. In the end of each of four periods (the last finishes on June 6) Doritos chooses two users with best methods of wrestling  for each of the 'contestants,' awards them with $1,000, films the moves, and then public votes for the best of the two by 'liking'. In the end, the judging panel will select one ultimate winner based on creativity of the finalists' ideas to award him or her with $10,000.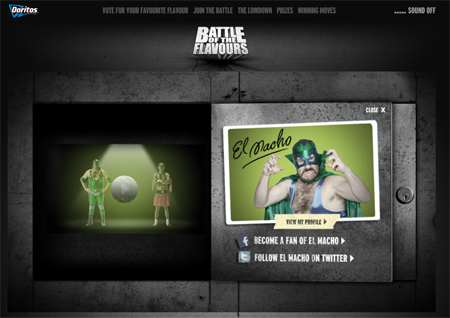 But it's not only the grand winner who can receive money in the promotion—one a daily basis for eight weeks of the campaign Doritos is giving away $1,000 to one of those who votes for the flavor (to do this, visitors are to enter the last four digits from the barcode on a pack), plus a $10,000 grand prize for an Australian and New Zealand resident. The flavor with the most votes will win and stay on shelf, with its competitor going down for ever—just like it was in Canada.