Guitar Center, one of the biggest stores specializing in music gear sales, has teamed up with Apple to run series of public workshops entitled 'Recording Made Easy'. As said in the tagline, the purpose of the free workshops series is to familiarize general public with functionality of Garage Band software developed by Apple.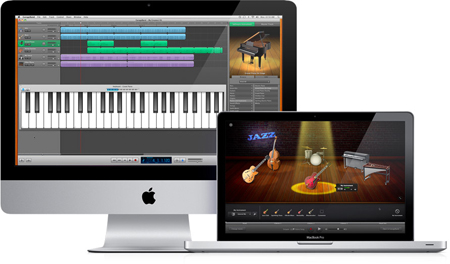 Image:www.apple.com
With any Mac computer and Garage Band software installed on it, anybody may record songs, as the computer turns into fully-functional recording station. To prove that, Apple and Guitar Center as an authorized reseller of Apple Pro product lineup, will demonstrate the potential of Apple computer and Garage Band software. The workshop series consists of 4 seminars, each dedicated to a key aspects of sound recordings such as Sound Effects, Mixing and Publishing, Signal Flow and Microphone Techniques, Virtual Instruments and Loops.
The workshops will be held on a weekly basis each Saturday from 10-11 a.m. in all of Guitar Center's 216 stores. For more detailed information on the schedule and topics of Recording Made Easy workshop series, please proceed to this page.