Carling, the UK's best selling lager, appointed strategic brand consulting and design firm, Landor Associates, to create an identity for its biggest promotional campaign in five years the'Perfect Pint Experience'.
Running across the on and off trade the Carling Perfect Pint Experience gives drinkers the opportunity to get their hands on one of 13 million prizes. From 18th April — July 31st 2011 Carling fans can find a unique code under the ring pull of their can or in a game card received when buying a pint which has a 1 in 10 chance to win a Perfect Pint Experience. Prizes range from Carling glasses and t-shirts to NME Awards packages, Carling Cup Final tickets and Isle of Wight Festival tickets.
Whether they have a winning or losing code, everyone has another chance to win one of five Perfect Pint Experiences, worth up to £15,000 each. All they have to do is share their ideal Carling Perfect Pint Experience at www.carling.com and Carling will select their favourite five entries to win that prize.
Landor's role was to create an identity for the promotional campaign across logotype, packaging and visual language.
Ben Marshall, associate creative director, Landor said, "The identity Landor created is a modular system that we designed with through-the-line execution in mind. We worked to include the TVcampaign before it had even been made."
The £3m below the line investment for the Carling Perfect Pint Experience will be available in 7,500 on trade outlets nationwide with over eight million game cards out in trade. In the off trade, over20,000 outlets nationwide will be taking part with 120 million cans featuring the unique code.
Carling is also supporting the promotion with a £3 million ATL investment featuring the Carling mates, developed through BMB, supports the promotion and launches with a new TV ad on 4th May. To support participating retailers and drive footfall into outlet proximity outdoor media will be sited by participating outlets, close to 2,380 on trade outlets and 3,200 off trade outlets. In addition new TV advertising launches on 4th May during the Champions League Semi Final and runs for five weeks alongside national press advertising and insertions in quality men's magazines.
The on-pack promotion and in outlet gamecard promotion will be supported by a dedicated mobile site and via carling.com/perfectpint. Alongside Landor Associates additional agencies working to support the activity are BD Network, BMB, Fastweb Media, Zenith and Cake.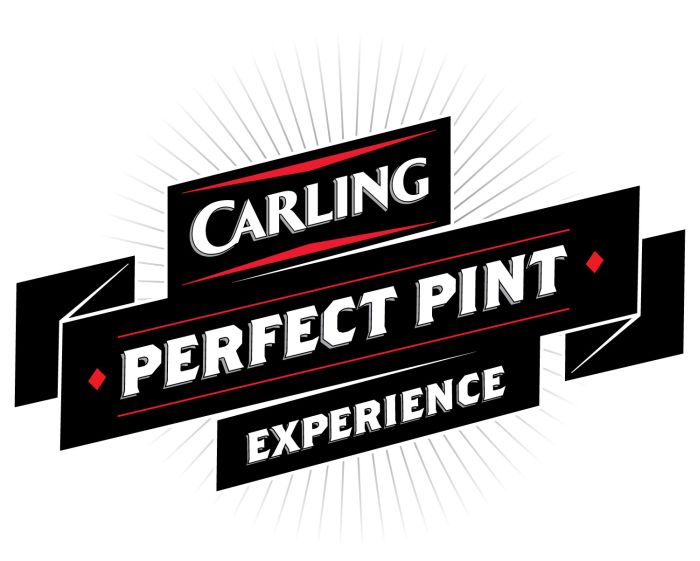 Photo: the new logo for the 'Perfect Pint Experience' campaign