Levi's has created a map featuring the must-see locales of its home city, San Francisco. The brand, which last week (May 20) celebrated the 138th anniversary of the blue jeans—in 1873, Levi Strauss and tailor Jacob Davis got U.S. patent number 139,121 for the process of strengthening men's work pants with copper rivets—and wanted to celebrate it by presenting the map with top destinations as tribute to the city where Strauss started the company 20 years before the big day.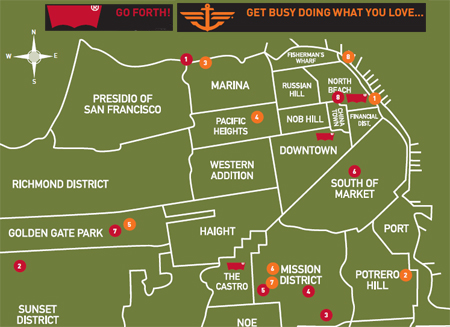 The map features 16 locations selected both by Levi's and Dockers khaki brand, which 'chose' the areas which render the spirit of the city the best way possible. As the creative team comments on the blog, they asked some of their "resident experts and came up with a two-pronged approach: the Levi's 'Go Forth' tips and the Dockers 'Get Busy Doing What You Love' version." For instance, as the guide states, Levi's Senior Director of Merchandising and Design, John Colonna, recommends a tour of the vibrant murals sprinkled around the tucked-away alleys and main streets of the Mission district, and Doug Conklyn, SVP of Global Design for Dockers, says to check out Ferry Building foodie hub for a cup of freshly brewed Blue Bottle Coffee, or hit up the Farmer's Market on Saturdays to pick up fresh veggies.
The map was created ahead of the International Pow Wow marketplace which was held in the company's home city May 21-25, and saw travel organizations from all around the U.S. and travel buyers from more than 70 countries conduct business negotiations that result in the generation of over $3.5 billion in future Visit USA travel. Levi Strauss & Co is not the first company which releases  travel guides or their mini-versions belonging to another field—for example, Louis Vuitton every year presents its bespoke guides and last year Nissan and Lonely Planet presented a short overview of sightseeing spots in Cardiff, London, Liverpool, Belfast and Glasgow.