LinkedIn has become the first privately-held social media company to go public by selling its shares at $45 per unit. Surprisingly, in the first day of trading shares rose as 171 percent and closed at $94.25, more than 109 percent above the initial price. According to www.reuters.com, to date 7.84 million shares have been sold, which puts the company at a valuation of about $4.3 billion.
So, starting from May 19, LinkedIn shares began trading on New York stock exchange. Due to the dynamic growth of the social media industry, the investor interest in this sector has been soaring. Facebook, Groupon, Twitter and Zynga are expected to be the next social media websites to become joint-stock companies.
According to Reuters, Facebook is expected to go public in April 2012. The company was valued at $70 billion in recent sales of the its private shares, a great increase from $50 billion at the beginning of 2o11.
However, in contrast to Facebook who's been successfully increasing its income by building a huge network of advertisers and coming up with original promotional opportunities for its advertisers, LinkedIN uses quite different monetization model: it offers classic online advertising opportunities while offering advertisers detailed stats and more specific information about the audience including age, gender, work and expected income of its users.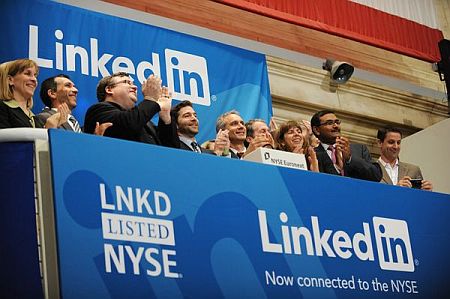 Photo: Los Angeles Times
* Updated on May 20, 2011