Yesterday, on May 10, 2011, during a live skype press conference in San Francisco, Microsoft CEO Steve Ballmer and Skype CEO Tony Bates confirmed previously rumoured announcement that the companies were to combine their businesses.
Under the agreement the global software giant Microsoft Corp. will acquire the leading Internet communications company Skype Global S.à r.l for $8.5 billion in cash from the investor group led by Silver Lake. This could be the most expensive Microsoft's 'purchase' in the company's 36-year history.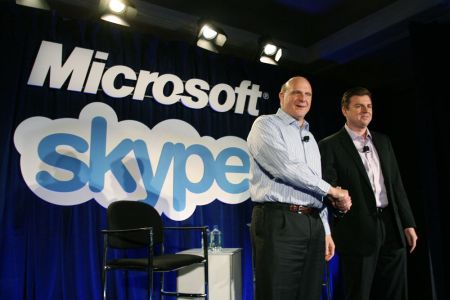 Microsoft CEO Steve Ballmer and Skype CEO Tony Bates announce Microsoft's acquisition of Skype. San Francisco, May 10, 2011.

"Skype is a phenomenal service that is loved by millions of people around the world," said Microsoft CEO Steve Ballmer. "Together we will create the future of real-time communications so people can easily stay connected to family, friends, clients and colleagues anywhere in the world."

"Microsoft and Skype share the vision of bringing software innovation and products to our customers," said Skype CEO Tony Bates. "Together, we will be able to accelerate Skype's plans to extend our global community and introduce new ways for everyone to communicate and collaborate."
However, this acquisition would not be the first deal of the kind for Skype. After being founded in 2003, Skype was bought by eBay for $3.1 billion in 2005, and then acquired by an investment group led by Silver Lake 2009.
No doubt, this strategic partnership will potentially create a huge competitive advantage for Microsoft and may open new business opportunities for Skype. The most obvious reason for Microsoft to acquire such a valuable asset is to create its own 'rival' offering based on Windows Phone 7 OS to compete with Apple's Facetime and Google's Voice.
For more information, news and perspectives from Microsoft, please visit the Microsoft News Center.