Pilsner Urquell, a flagship of SABMiller's international brand portfolio, launched its new global creative campaign 'The Legends of Pilsner Urquell' on YouTube and PilsnerUrquell.com. The meticulously created stop-frame animation film celebrates 'The Day Pilsen Struck Gold,' the first chapter, in the true historical legends of the brand. The film tells the factual history of November 1842, when the Pilsen brewers took the inaugural sip of the world's first golden beer.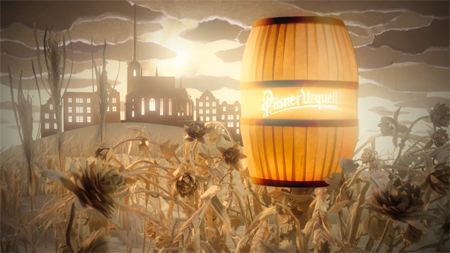 The creative campaign is conceptualised and produced by Pilsner Urquell's global creative agency The Bank and infuses the uncompromised values of Pilsner Urquell into the animation. The work is hand-made by skilled craftsmen and is inspired by the work of renowned paper artist Su Blackwell. Blackwell, who brings stories to life through book-sculptures created a model of Pilsner Urquell's hometown of Pilsen, by cutting-out pages from a book to create a three-dimensional diorama of the enchanting town in Western Bohemia.
Second Home Studios, specialising in stop-motion and 2-D animation, were tasked with bringing the sculpture to life and echoing the time-honoured tradition of Eastern European animation in the process. Each paper model was hand-constructed by the team to depict the actual town of Pilsen and the blooming Saaz Hops region of the Czech Republic. The Saaz region model was then trimmed and the animation was filmed in reverse, giving a sense that the paper models are a growing and blooming field of hops.
Petr Dvorak, Pilsner Urquell's Global Brand Director said, "This legend 'The Day Pilsen Struck Gold' is the story of how the finest of ingredients were married with passion and expertise to create the world's first golden beer—a precious discovery. The animation reflects the movement from dark into light—from a world of murky beers, to the clear and golden Pilsner Urquell. The town of Pilsen and the ingredients are heroed in the animatio and every care was taken to ensure complete authenticity in the representation of all elements."
Pilsner Urquell debuted the campaign at a private drinks reception at the first European Beer Bloggers Conference in London, UK on 20 May.