Some cars are the speediest, some are the most reliable, and the new Volkswagen's Polo GTI launched by is the most musical model ever—at least, in advertising. The auto manufacturer teamed up with Tribal DDB Singapore to launch a digital campaign featuring Singapore's top beat boxer, Dharni, and is inviting consumers to take up a challenge for a chance to win the ultimate prize, a weekend drive with the new Polo GTI.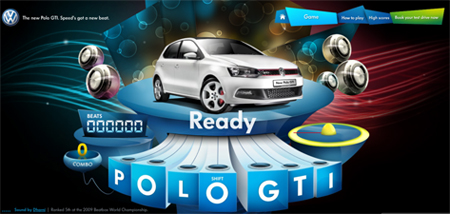 From April 22 through May 8, the brand invites people to visit its dedicated online location  www.pologti.sg where they can learn more about the model though special snippets of key features, book a drive (that's a traditional offer when it comes to a launch of a new model), plus, which is much more interesting, play the Beat the new Polo GTI game, which challenges the participants to match the correct letters to the fast beats of Dharni, the 5th top beatboxer in the world, who opened for performers including Kanye West, Lady Gaga and Black Eyed Peas to name a few. The player with the highest score among those who managed to match everything correctly, wins the major prize.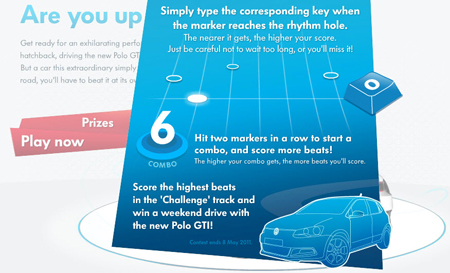 "The Polo GTI offers a fast and fun drive—perfect for those who prefer a little more excitement on the road," said Jamie Lee, GM, Marketing Communications, Volkswagen Group Singapore. "To demonstrate that spirit, we moved away from traditional media and ventured into new media, to provide a platform for a more dynamic expression of this new car."
For the launch of the new campaign taglined 'The new Polo GTI. Speed's got a new beat,' VW and Dharni released a viral video, in which the beatboxer is performing to the well-recognized car sounds of the new model, thus creating an awesome rhythmic soundtrack.
"Not only did we give speed a new beat, we created a following through an influencer," commented Jeff Cheong, Head and Executive Creative Director of Tribal DDB Singapore. "The story and the highly addictive game forms part of the social-creative strategy. It's a bold move for Volkswagen Singapore to lead a car launch with digital and we are very encouraged by the results so far."