Any big idea, which helps a company flourish and establish intimate ties with consumers and pushes it forward in the industry, has a team of professionals behind. In this review based on the Fast Company's diverse list of The 100 Most Creative People in Business 2011, we at Popsop celebrate creative geniuses in top international businesses including Apple, Google, Levi's, Nike, PepsiCo and more who reinvent strategies of their companies and introduce new groundbreaking solutions that change the world in a certain way.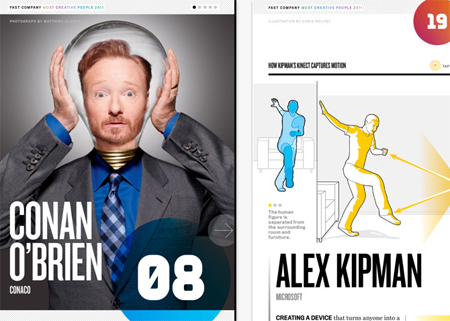 This short compilation features 12 leaders from global companies mentioned in the Fast Company's detailed annual review, with all respect to the remaining 78 who represent a number of fields ranging from technology, media and apparel to health care and advertising (Fast Company also presented an iPad app to view the list in a fun and engaging way). So, let's start this inspirational journey with people who belong to those who shape the future of global industries. Wadah Khanfar, the director general of Al Jazeera, occupied the first place on the list, but we will start from the next person, who represents international business (Image courtesy—Fast Company).
No. 2: Scott Forstall, Apple
One of the biggest corporations in the technology universe, Apple, is famous globally not only because of the bespoke airy and sleek designs of its products, but also for the operating systems which support the much-loved iPads, iPhones and iPods. Scott Forstall, senior VP of iPhone software at Apple, is the chief architect of iOS, which is used in the i-gadgets of the brand. The revenues which iOS-based devices bring are huge—the financial results for the company's fiscal 2011 second quarter ended March 26, 2011 showed that Apple sold 32.36 million i-products during the quarter. The total revenue summed up to a big $24.67 billion, and though the company didn't specified how much they contributed, but the share obviously wasn't small since the quarter before it made up 65%.
No. 5: Sebastian Thrun, Google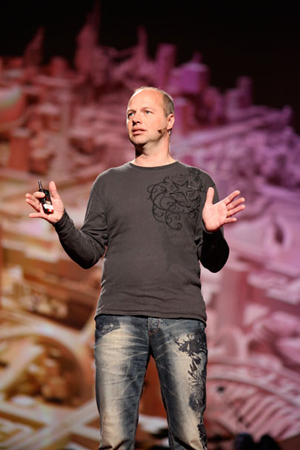 Sebastian Thrun, the director of the Stanford Artificial Intelligence Laboratory, a Google engineer and the co-inventor of the Street View mapping service is deeply engaged in developing the technology of self-driving cars within the company's innovation team. "Our automated cars use video cameras, radar sensors and a laser range finder to 'see' other traffic, as well as detailed maps (which we collect using manually driven vehicles) to navigate the road ahead. This is all made possible by Google's data centers, which can process the enormous amounts of information gathered by our cars when mapping their terrain," wrote Thrun in his post on Google's blog, revealing details of the tests completed in fall 2010 featuring Toyota Prius, which was equipped with the autonomous driving technology.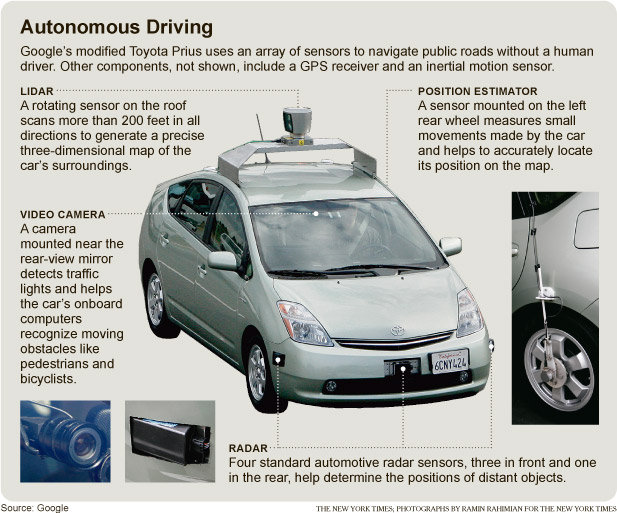 Image: www.nytimes.com
Last week, Toyota announced development of the Toyota Friend social network, so most probably, we're approaching the era when the cars will be driven by themselves and a man will be just sitting inside and 'chatting' with the vehicle.
No. 15: Eric Dishman, Intel
Well-being and health concepts underlie most of the innovations introduced by companies today. Intel, one of the technological leaders on the modern global market, in among these pioneers as well, and it proved it by launching Care Innovations GE, a joint venture between GE and Intel, in January 2011, aimed at offering technology-based solutions that give old and disabled people confidence to live independently. "All of health care is based on one idea from the 1850s,» commented social scientist Eric Dishman, Intel's director of health innovation. «That it has to be delivered in a face-to-face setting. That's game-changing for quality of life, and a trillion dollars in potential savings.» As it was reported, the venture will focus on providing people with solution in three main areas: chronic disease management, independent living, and assistive technologies.
No. 19: Alex Kipman, Microsoft
In November 2010, Microsoft released the much-discussed sensor controller Kinect, which enables to control action on the screen with the wave of a hand or the sound of your voice, for the Xbox. Alex Kipman, Director of Incubation for Xbox and one of those who where developing the technology for the device, commented on the future of the technology, «This is a new era, and it's going to require a ton of pioneering, a ton of innovation, and a ton of incubation. That's not going to happen all within Microsoft.»
No. 21: Chris Cox, Facebook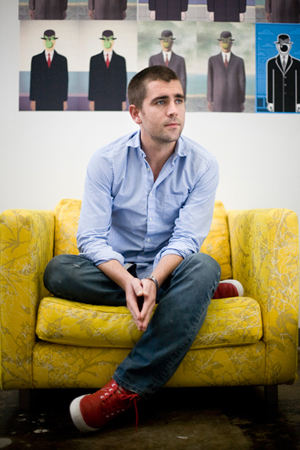 Chris Cox, who is Vice President of Product at Facebook, belongs to the group engaged in development of new features for the most popular social network around the globe—for instance, he managed the teams of programmers and designers behind Facebook Places and Facebook Groups. But his work is not all only about technology, since he's focused "on scaling both the site and the philosophy behind it." Of course, his work requires a lot of inspiration and he shares on how he gets it, "I read a lot about adjacent fields, like architecture, fashion, or music. It's not the obvious place to look for inspiration. Some of the most grounding stuff for me has been Marshall McLuhan who talked about the evolution of mediums and Stewart Brand, who is another sort of thinker, talking about the way that communities and places could be built… A lot of that thinking goes into how to create a home page for a social networking site."
No. 23: Debra Sandler, Mars
Well-known products with unconventional tastes always generate big buzz, but it's not easy to keep consumer's interest level high. Debra Sandler, chief consumer officer at Mars Chocolate North America, knows how to deal with it: she joined the company in late 2009, and helped it look at some of its legendary brands from a new point of view, which of course was extremely beneficial for them. For instance, last year they introduced M&M's Pretzel Chocolate Candies under Sandler's supervision, and this came as a real present for the brand's fans, helped to raise the revenue from the product's sales—the new variety was such a hit that it became the 2011 Product of the Year in the candy and snacks category by Product of the Year USA. "When I was younger, I thought, I'm not an artist, I'm not creative. But I've discovered my creativity is that I can tell what might move consumers. So, it's never late to boost your creativity, in any age, in any field," Debora said.
No. 26: Sitaram Asur, HP Labs
Sitaram Asur, a researcher in the Social Computing Lab at HP Labs, last year presented a Twitter-based algorithm (developed with his colleague Bernardo Huberman) that can predict box-office returns. The researchers developed formulas, using which one can forecast opening-weekend tallies, with 97.3% accuracy, by just studying how massively the movie is discussed in Twitter. The 8-page paper can be downloaded here.
No. 34: Trevor Edwards, Nike
He has been with Nike for almost 20 years, since 1992, and so far Trevor Edwards, who is Nike's VP of global brand management, has launched a range of simple, but effective tools that can provide consumers with an incentive during their trainings. The products he presented (of course, with a team of professionals behind) are a variety of tools including wearable sensors linked to social apps and online communities—they help athletes (both amateur and professional) get even more motivated throughout the training sessions by receiving support from their friends and coaches though the tools.
No. 40: Stephan Durach, BMW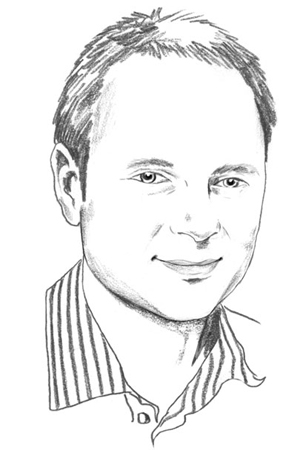 The world has to wait a bit before the self-driven cars from Google and the Toyota Friend social network will appear, while new interactive solution from BMW is already here. Stephan Durach, head of the BMW Technology Office, is of one of those who developed revolutionary feature for BMW and MINI Cooper cars which synchronize the vehicle with the web —now, "with the BMW Connected app, functions such as web radio, Facebook and Twitter can be shown on the car's display and be operated by means of the iDrive Controller," the official press releases stated.
No. 54: Christian Parkes, Levi's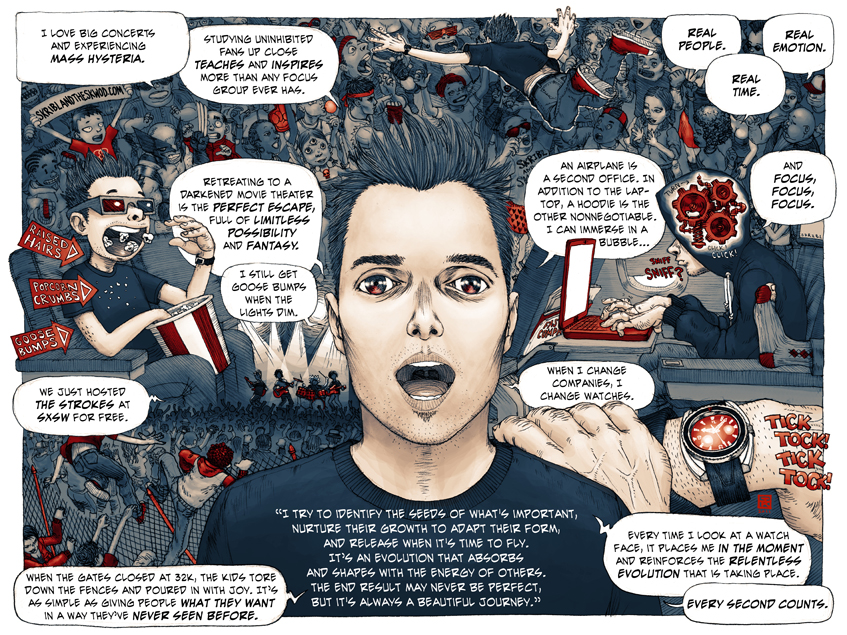 On the social front, in the past year Levi's scored really well with a set of awesome and important campaigns and projects, which are strongly focused on environmental and community issues. Christian Parkes, now Global Senior Director of Marketing, who joined Levi's a year ago, is one of those who supervised the development of the project including the brand's Braddock reinvention as part of 'Go Forth' promotion. The latest contribution of Parkes is introduction of interactive water saving project on Facebook through which the brand is encouraging its fans to unlock challenges in order to collect more money for donations to a water conservation organization. The game came as a one of the initiatives centered around Levi's commitment to use less water for production and treatment of jeans.
No. 69: Jason Castriota, Saab
The following influencer on the list also belongs to the automobile industry—Saab's Executive Director of Design, Jason Castriota is featured on the third annual ranking of The 100 Most Creative People in Business for his contribution in developing new models of the brand's cars, including the Saab PhoeniX concept with 'aeromotional' design inspired by Saab's aviation background.
No. 77: B. Bonin Bough, PepsiCo
The last, but not the least person on this list is B. Bonin Bough, PepsiCo's global director of social media, who developed and launched a plethora of projects focused on fostering positive changes in everyday life of modern consumers through social media. One of the most large-scale initiatives kicked off by the soda brand in the recent months, is its hilarious Pepsi Refresh project, launched back in 2010 to fund the best public's ideas for improving communities across the USA and Canada.
Our congratulations to companies and people featured on the list of the 100 Most Creative People in Business 2011 presented by Fast Company. Unfortunately, this year's overview didn't include leaders from other companies—Coca-Cola, Starbucks, IBM or Samsung—to name a few which just love to reinvigorate their industries with new features, but we hope that it will not stop them from going on delivering positive changes around the globe.