ABSOLUT VODKA, the third largest brand of alcoholic spirits in the world, sold in 126 countries, is excited to announce a new limited-edition launch of vodka flavor dedicated to San Francisco.
Much of ABSOLUT VODKA's fame, which made it a world-known brand icon, was due to its brilliant advertising campaigns based on the distinctive bottle shape. Along with that, ABSOLUT VODKA was one of the first to come up with popularizing infusions or flavored vodkas. Yesterday, May 31, it revealed a new edition in its city-inspired portfolio.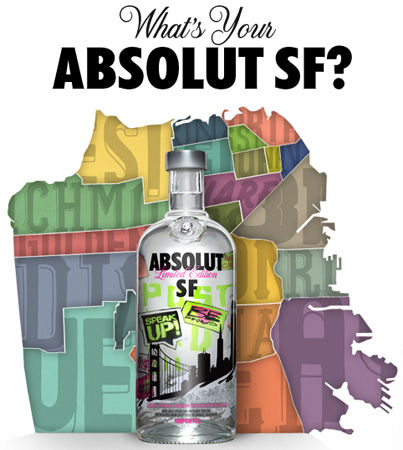 After success of ABSOLUT NEW ORLEANS' launch in 2007, and every year since then creating a new limited-edition flavor—ABSOLUT LOS ANGELES in 2008, ABSOLUT BOSTON in 2009, ABSOLUT BROOKLYN in 2010, yesterday the company introduced the new city-flavor in the famous series. Featuring San Francisco's outstanding spirit, cultural diversity and culinary tastes, ABSOLUT SF is a great mix of grape, dragon fruit and papaya.
ABSOLUT is 'expressing' its love for San Francisco by running a campaign that invites consumers to express themselves at www.facebook.com/ABSOLUT by answering «What's your ABSOLUT SF?—the one thing that makes your neighborhood San Francisco's best.» Consumers can share their San Francisco's photos or video, own drink recipes, depicting spirit of the city. Among famous participants one can find: Miguel Migs, one of San Francisco's leading sonic ambassadors, Christopher Collins, fashion designer and former contestant of Project Runway, Erik Otto, conceptual painter, and Kevin Rose, founder of Digg, a social news website.
As a result of the campaign, the 'ABSOLUT Capitol of SF' will be awarded to the neighborhood with the biggest participation. It will receive a special placement on the ABSOLUT Facebook tab and a unique mural created in its honor.
ABSOLUT is also 'expressing' its love for San Francisco by donating $50,000 to Habitat for Humanity Greater San Francisco to support affordable green homes' development in Daly City.

Image: www.facebook.com/ABSOLUT