Greenpeace, which has recently launched a campaign against Mattel (and Barbie, who turned to be a serial killer), now is targeting another manufacturing giant—the Volkswagen Group (unfortunately, the 'Think Blue.' philosophy didn't save the largest carmaker in Europe from disgrace). The environmental activists are turning VW's battery against it: the much loved 'The Force' Superbowl commercial (which got Gold Lion in 'Film' at 2011 Cannes Lions) featuring 'little Dart Vader' inspired a parody video, launched by Greenpeace to raise awareness of the automaker's lobbying against cuts to carbon emissions—and drive the manufacturer to greener standards.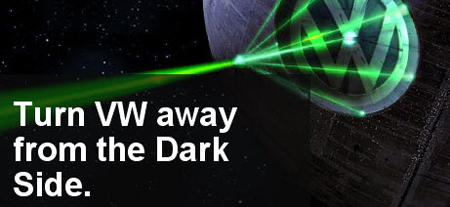 Greenpeace has launched a dedicated website and released two-part video  story, encouraging people from all around the globe to 'join the rebellion' and convince the manufacturer to support the eco-friendly legislation as well as make its entire fleet oil-free by 2040. "Volkswagen is a big part of many of our lives—indeed many rebel vehicles are VWs. But it seems the bosses at Volkswagen have been seduced by the dark side of the Force and left us with little choice but to challenge them. But it's not too late. There's a chance that together we can turn Volkswagen away from the dark side and into a Force for good, leading to a brighter future for us all," says the green organization in the call. The action is also to be rolled out across the select countries across the world and include manifestations and outdoor advertising.
As usual, Greenpeace is providing facts behind the campaign against the automaker. The organization states that "Volkswagen is spending millions of Euros every year funding lobby groups who are trying to stop Europe increasing its commitment to greenhouse gas reductions from 20% to 30% by 2020." In fact, a range of companies including other industries giants such as Google, IKEA, Sony, Unilever and Philips, have already supported the new targets, now its Volkswagen's turn. While "only 6% of the cars it sold in 2010 were its most efficient models," the car manufacturer has the green technology and says it wants to be "the most eco-friendly automaker in the world"—and Greenpeace is ready to help the brand get closer to its green goal.
Greenpeace also unveiled 'VW's secret plans' in the detailed 25-page report that can be downloaded here. To join the movement, sign the 'rebel manifesto,' which will be emailed VW's bosses by Greenpeace.