Following the 'green path' usually implies keeping to just one major regulation: being as good as possible to nature. But since brands should think about profits as well and consider people's opinion about their eco-friendly products and approaches, as long as everything they do is primarily done for consumers, shoppers' feedback is one of the major tools shaping the environmental principles of companies. Earlier this month, the ImagePower Global Green Brands Study, the largest in its 5-year history—was presented by Cohn & Wolfe, Esty Environmental Partners and Penn Schoen Berland—the study reveals current consumers' attitude to green products and shows how it has changed over the past years.
The team behind the public opinion research polled over 9,000 people in eight countries from April 2–May 3, 2011 and determined which companies have the greenest reputation across the world. In this piece, Popsop provides a brisk look at the findings, for more detailed information view the slideshow below.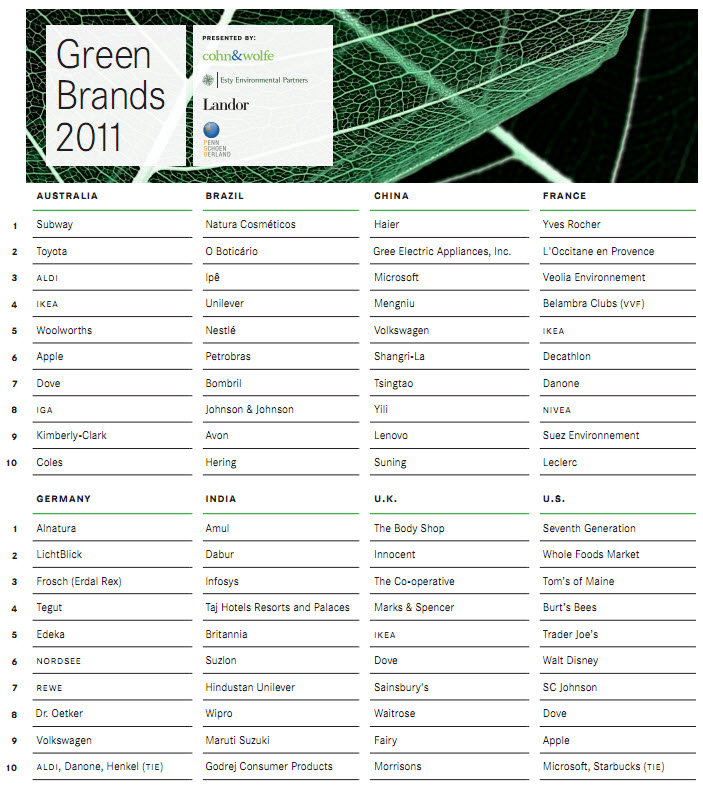 Click to enlarge
The countries, where the poll was conducted, includes Australia, Brazil, China, France, Germany, the USA, the UK, and India, and the major brands and companies featured on the list are Starbucks (feaured once—1), Microsoft (2), IKEA (3), Dove (3), Volkswagen (2), Apple (2), Unilever (1), Kimberly-Clark (1) and Nivea (1) to name but a few, with the first place in each chart being occupied by local brands such as Subway, Amul, Alnatura, Seventh Generation and others (The Body Shop on the British chart and Yves Rocher in the France's chart are the only exceptions).
In general, the choice is quite predictable—over the past years, these brands have been continuing their eco-oriented strategies and unveiled a plethora of new goals and plans for delivering sustainable products for their consumers. For instance, IKEA, which appeared in the charts three times (on the 4th and 5th positions), has strong commitment to sell eco-friendly products and in its recent 2010 Sustainability report presented the Product Scorecard, the new tool, which "will help classify the IKEA home furnishing range. It will steer us towards selecting the best possible alternatives within 11 criteria that have an impact on a product's sustainability profile throughout its life-cycle," as the company states in the report. Surprisingly enough, neither Nike with its Environmental Design Apparel Tool nor PUMA, which has recently announced results of unprecedented environmental profit & loss, Coca-Cola and PepsiCo with their numerous projects revolving around environmental activity are not mentioned on the lists.
Apparel brands were left out of the charts, with personal care, grocery and household products being the leading industries across the eight lists with a few technology and automobile leaders. The study reveals a number of outlooks regarding people's choice, such as attitude towards green advertising (French respondents turn to be the most skeptical ones—42% of them trust this kind of adverts, while 86% Brazilian and 82% Chinese consumers say that these ads help them make more informed purchase decisions). According to the study, respondents in all markets also plan to buy more green auto and tech sector products and in general won't spend more on grocery and household products in the coming year, but now these two categories top the list of most purchased goods. In other words, there's a shift from less expensive goods like food to more expensive ones such as cars, and it proves the fact that consumers now have a stronger belief in green technologies and are ready to pay more buying hybrid and electric vehicles and tech products that help do good to nature.
"We're seeing a shift in the 'In Me, On Me, Around Me' mentality when it comes to purchasing green products," commented Russ Meyer, Chief Strategy Officer of Landor Associates. "Consumers have a good understanding of how green choices in personal care, food and household products directly affect their families, and they are now seeing benefits like costs savings that attract them to higher cost items like cars and technology."
Today, major brands of these industries make grounds for these choices and launch international campaigns that are designed to spread the word about their eco-friendly solutions and inform people on their positive impact. For instance, last February Volkswagen kicked off its 'Think Blue.' initiative in Europe and shortly after that it continued it across the world—last month the auto brand launched it in the USA. Nissan also introduced a massive promotional program for its Nissan Leaf ('2011 World Car of the Year') which includes both children-oriented campaigns like 'Choose Zero' and a range of projects featuring celebrities (the recently launched 'Innovation for Endurance' and last year's sport starring Lance Armstrong).
The more we believe in something, the more we tend to spend on it. This notion underlies consumers' choices as well. The fact that they are ready to purchase more eco-friendly goods and buy more expensive things produced with the use of greener technologies means that companies have chosen the right strategies since there's demand for their products. The study reveals that over 60% of respondents in these eight countries are determined to buy goods from eco conscious companies and pay more to get greener products, which in general have become more available. According to the survey, consumers in developing regions are more willing to pay a green price premium: 17% of Indian consumers and 7% of Chinese are ready to pay over 30% more for more eco-friendly goods, while people in the UK (43%) and the U.S. (33%) say that can spend up to 10% more—at the same time, 40% of Britons (and it's more than in any other country) are not willing to spend on a product because it's green.
"Consumers in developing countries express greater concern over the state of the environment in their countries, which may contribute to their greater willingness to pay more for green products," said Paul Andrepont, Senior Vice President of Penn Schoen Berland. "Consumers in these markets also differ from their developed-nation counterparts in believing that selection, rather than cost, is the greatest barrier to buying green products. Brands that address these consumers' very real concern—over air pollution in India or deforestation in Brazil—have the ability to position themselves as premium in the market, a possible competitive advantage."
Consumers tend to pay attention not only to the products, but also to the materials the goods are wrapped in. For many leaders in the food, personal care and household goods categories this is one of the most crucial points and the major field for innovations. Most of the brands and companies ranging from PepsiCo and Coca-Cola with plant-based bottles to Procter & Gamble with its packaging made from sugarcane-derived renewable plastic, are bringing in innovations into this field. Using packaging, which is not sustainable, seems to be one of the worst sins for modern manufacturers and retailers (recent Greenpeace's campaign against Mattel proved it clearly). They also seem to overuse the wrapping materials, as 71% of Americans and 91% of Britons think that producers take more packaging material then needed. In addition to this, it's mentioned in the press release that "almost half of American consumers feel that packaging that can be recycled is more important than packaging made from recycled or biodegradable materials." So, cups, bottles and bags from reused plastic are less wanted that all these innovative containers, which can live a new life.
Consumers also want to make their green purchasing decisions based on information they see on labels. In fact, today companies tend to indicate the background of the product itself using nearly the same way as the one applied for unveiling the nutritional info: Timberland's the Green Index label, introduced back in 2006 for the brand's footwear, Fairtrade's logo, which helps consumers choose sustainable foods just like the WWF panda logo (recently, Kimberly-Clark's Kleenex has become the first paper tissue brand to get it on its packs) to name but a few.
"Other than price, the two biggest influences on purchase decisions are on-package messaging and prior experience with the product, both of which satisfy the consumer need to understand a benefit beyond 'saving the world,'" said Annie Longsworth, global sustainability practice leader for Cohn & Wolfe. "It's critical for green brands to communicate the real and tangible benefits of their products in addition to being green, which still feels like luxury to many consumers."
Today, being only eco-friendly is not enough—brands should be both green and consumer-friendly, and only this can help them win big.