PepsiCo is launching the first new advertising campaign for its flagship Pepsi-Cola in three years. The company paid less attention to its biggest brand after it slipped to No. 3 in U.S. soda sales last year, trailing not only Coke but Diet Coke. This summer brings a new wave to the brand's life and results in a bit provocative TV-ad campaign where Coca-Cola's Santa hangs out on a beach with a can of Pepsi, telling a barman he's on vacation. The strapline is 'Summer time is Pepsi time'.
According to The Wall Street Journal, the cola war traces its roots to the 19 century. When industry market share numbers came out in March, showing Pepsi-Cola sank to No. 3, analysts didn't hesitate to accuse PepsiCo's Chairman and Chief Executive Indra Nooyi of taking her eyes off the company's main brand.
Now, PepsiCo is going to spend about 30% more this year on TV advertising for its North American beverages, with a big focus on cola. In addition to the summer ad campaign, Pepsi will be involved into Simon Cowell's 'X Factor'' resulting in a $60 million sponsorship deal starting this fall. The company also recently launched new TV ads for Diet Pepsi and Pepsi Max.
Mrs. Nooyi who was criticized by market analysts for excessive concentration on company's  'healthy' brands acknowledged that she may have spent a disproportionate amount of time talking about healthier products, but said it's part of a 'deliberate strategy' to diversify the portfolio. Consumers increasingly want healthier foods and beverages, she said, and PepsiCo has to satisfy critics about health concerns.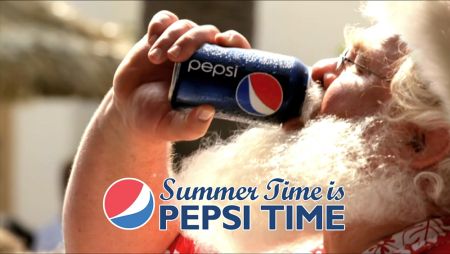 Credits to TBWA\CHIAT\DAY