Volkswagen Canada offers its fans a unique opportunity 'to see what they really want to see'—create a new commercial as part of the brand's 'Drive Until…' campaign launched for the Golf. The car brand is inviting its fans to develop the third installment in the series of vignettes, which tell a story about a 30-something guy.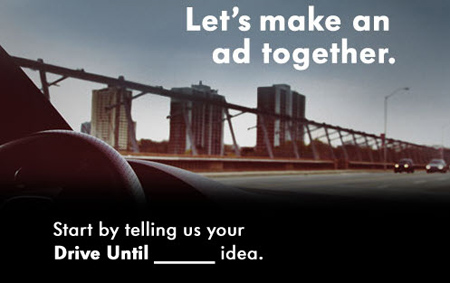 To join the creative team, one is encouraged to visit the dedicated hub on Facebook and submit ideas on how the plot should evolve. The two previous videos saw the protagonist as he was making life-changing decisions: in the first film he was mentally preparing to propose to his girlfriend and is driving around the block in his Golf (the line 'Drive until you find the courage.' pops up in the end), and in the second one he was driving with his friends the night before the wedding and was getting ready for the next step—going to the church (in the end of the spot the 'Drive until it's time.' phrase appears).
The third chapter will finish the series—users are encouraged to suggest the script, cast, music score as well as share their ideas on a range of other key features for teh spot which will be develop in the coming weeks. They are collaborating with Volkswagen and advertising agency Red Urban literally in real time, providing their suggestions in comments on Facebook. Here's one the ideas for the final installment (sent by Josh Velez)—"To continue the campaign and the newlywed's story I would have both the husband and wife in their Volkswagen on the way to their first new home. They are passing by several houses, in a very clean and bright neighbourhood, on a beautiful summer day. They are continuously looking out the window, excited and anticipating the moment that they will pull into the driveway of their new home together for the first time. Scenes will show them tightly holding hands, and showing their star struck expressions as they see their new home in the distance. The neighbourhood will have young children playing on their lawns, and an overall welcoming community as they drive by. The neighbourhood will portray as the perfect place where the couple would raise a family and have a future. As they finally arrive they step out of the car, come together and hug and the tagline appears, 'Drive until you find the perfect place'".