Virtually everything in the world can be rated, being that success of leading global companies, creativity, Facebook popularity or support for LGBT community. YouGov BrandIndex has conducted a survey, asking U.S. citizens, who identified themselves as lesbian, gay, bisexual and transgender, to say which brands are best perceived by them. Google's YouTube tops the list of twenty companies, which also includes Google, Disney, Ford, Apple and M&M's. Surprisingly enough, the ranking doesn't feature ABSOLUT, known for its long-standing commitment to help LGBT representatives feel better by launching a range of initiatives (Gay Theatre Festival is just one of them) as well as other vodka or beer drinks.
Google got the top positions for supporting gay adults and its movement against bulling and struggling homosexual youth. Recently, it contributed to the 'It Gets Better' project, launched by activist and columnist Dan Savage in September 2010 (both on the dedicated website and YouTube channel), by releasing a video as part of its 'The Web Is What You Make of It' promotional campaign for Google Chrome. In honour of the Gay and Lesbian Pride Month (June), the Internet giant has added a decorative feature to its search page: a rainbow appears around the end of the search bar when a user enters homosexual-related quires such as 'lesbian,' 'transgender,' 'LGBT,' 'gay' and a range of other words, referring to the theme.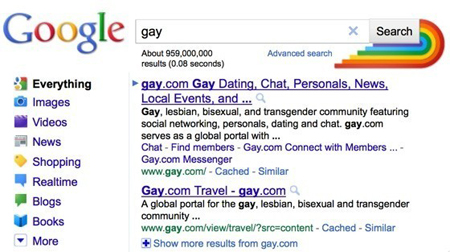 YouTube and Google are followed by Amazon, Subway, Whole Foods, Disneyland/Disney World (it has been hosting Gay Days for 20 years in a row), iPhone, Claritin and HBO. Bud Light, which is the presenting sponsor of the Gay Days, was not featured on the list as well (in general, no alcohol brands were mentioned, including ROKK Vodka, which has been a presenting partner of Annual GLAAD Media Awards in March). Comparing with the 1st quarter, in the 2nd quarter Claritin is the highest gaining brand, followed by Nike and Netfix.
The piece on the official website of the company states that "all of the more than 1,100 brands that YouGov BrandIndex tracks were measured using the company's Buzz score,"—they asked respondents if they'd heard anything about the brand in the last two weeks, through advertising, news or word of mouth, was it positive or negative. The results were then analyzed and unveiled in the charts.