Following the introduction of hilarious Happiness Machines, which help spread joy throughout the globe, Coca-Cola presented new vending units, helping collect money for activities that support earthquake victims in Japan. The idea behind the project is quite simple: when you buy a bottle or can of you favourite soft-drink, you may share your good mood and help with those who are in need in the areas of the country, which were damaged heavily by the natural disaster which shook the country in March.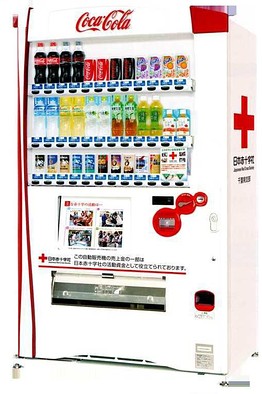 Photo: www.blogs.wsj.com/japanrealtime
The machines have been developed by Coca-Cola Japan in collaboration with the Japanese Red Cross Society—this January, the soft drink giant and International Federation of Red Cross and Red Crescent Societies launched global partnership on the humanitarian and charitable front. Here's how the machine operates: when one buys a drink, he or she can push the red 'charity buttons' on the units, making a contribution of either 10 yen or 100 yen (approx. $0.12 or $1.23)—one can also donate money without purchasing a product. It's probably the most polite vending machine in the world—after the sum is accepted, it says "Thank you very much for your donation.» The contributions collected by the end of September 2011, will be donated to support the victims of the earthquake, and the donations received later will be spent on other Red Cross activities—by now, Coca-Cola has already pledged $33 million to support the reconstruction efforts in the country.
According to the press release, "three-dimensional curves and features like HFC-free heat pumps make the vending machines both eye-catching and eco-friendly." This year, the company will distribute 100 units across the country—so far, some of them can already be spotted in Tokyo. The idea to incorporate dispenser machines into the fundraising program is based on the fact that "approximately 30 percent of all Coca-Cola beverages sold in Japan are purchased in one of the more than 980,000 vending machines" of the company.
The 'beneficial machine' trend is really popular now. PepsiCo, Coca-Cola's major rival, last year unveiled its Dream Machine, which offered people an opportunity to contribute to the social cause by putting used bottles or cans into the special kiosk for further recycling.