Last summer, Levi Strauss presented the dENiZEN brand designed exclusively for Asia-Pacific region, but then it was decided that the new offer might be a good addition to the company's portfolio in other countries as well. The brand, which is already available in China, India, Mexico, Pakistan, Singapore and South Korea, today, July 20, officially arrives in the U.S. to be sold at Target throughout the country—there, shoppers can find men, women, boys and girls styles at the prices ranging from $17.99 to $29.99.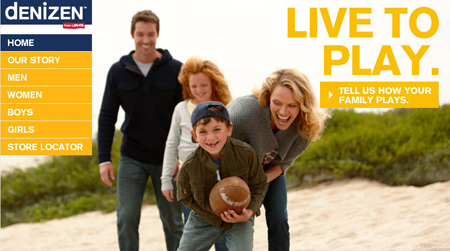 «With dENiZEN jeans, we've designed a new basic essential that everyone in the family can enjoy. Jeans are an essential part of our daily lives. No matter who you are or where you live, everyone has a favorite pair of jeans.  And those jeans are worn throughout all of life's important moments. We expect that dENiZEN jeans will fit this role perfectly,» commented Susan Brennan, dENiZEN SVP/GM for the United States.
To know more about the brand, consumers can visit the U.S. section on the website as well as join the conversation about the brand on the dedicated hub 'Live in dENiZEN jeans' at www.facebook.com/denizenamerica.There, people are invited to share their own jeans stories with the world, telling what they like to do in their favourite denim pants. To encourage more people to 'like' the page, for a limited time, the brand is giving away gift cards and even provides then with an opportunity to win a pair of new jeans.
As part of the launch, Levi's kicks off the campaign to promote the new brand across the country, centering on the idea that the jeans are part of everyday life of common people—you. "Denizen means 'inhabitant': belonging to a community of family and friends. Denim is in the name, at the heart of the brand. The dENiZEN brand is accessible to all, promising the optimism and confidence that stems from looking and feeling great. dENiZEN jeans are the perfect fit for today's active families, offering the perfect balance of style and value," explains the brand on its official website. So far, Levi's doesn't unveil its plans on where else it will take the brand next.