On July 12, Doritos, a PepsiCo's snack brand, launched a 2-months storytelling campaign Doritos Uncut for their Brazilian fans on Facebook. The campaign, developed by partner agencies LiveAD in Sao Paolo and Night Agency in New York, gives the idea of social sharing and storytelling through an innovative application that allows multiple friends to tell one story. The story is hoped to be brought to digital life by Doritos.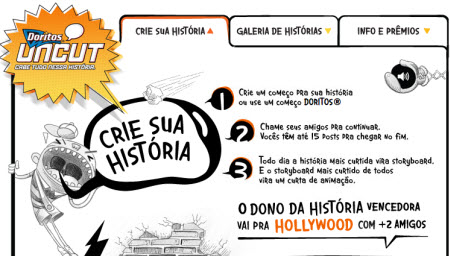 The idea of the Doritos Uncut is that a story is often best when told from different perspectives and voices. Within the platform, fans will create the start of a story and then turn to their friends to tell the rest. At the end of each day, Doritos, will choose the most liked story and turn it into animated illustrations. At the end of the campaign the best story will be made into an animated short video.
This is the first large-scale Facebook initiative by Doritos for the Brazilian market. While currently the second most popular social network, Industry experts have predicted that Facebook will take the number one spot in Brazil by 2012.
«Brazil is one of the leading countries in Internet growth in South America and has the largest online audience in Latin America,» explained Renata Figueiredo from PepsiCo. «According to recent studies, Brazilians are more involved with social networking sites than the average global user, and we're eager to begin reaching this highly engaged consumer.»
In addition to Facebook media and partner blogs, Doritos Uncut will be promoted on about 20 million Doritos' packages at retail, driving customers to the brands Brazilian Facebook page.
Doritos has recently launched a new game campaign in UK, featuring Dip Desperado hero.