Doritos, the tortilla brand well-known for its crowdsourcing ad projects (which not only gave dozens of creatives from around the globe a chance to earn some money with their filmmaking talent, but also helped the brand make it big earlier this year during Super Bowl), has released a touching story of one man, Esteban Ortega, aka the Dip Desperado. He used to be a champion chip flicker, but then ruined his life with alcohol and big-headedness and finally lost his title—now he wants to reclaim it and asks consumers to help.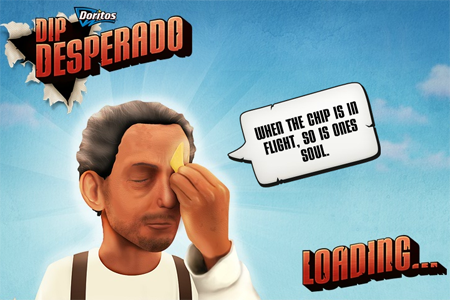 In the new integrate campaign developed by AMV BBDO and The Glue Society, UK consumers can test their own shooting skills in a game on Facebook or on free iPhone and Android apps, for a chance to win one of 1,000 prizes, which include a trip to Universal Orlando Resort in Florida or a day of driving at Silverstone as well as professional photo shoots and PlayStation3 games consoles to name but a few (people from other countries can play the game as well). Users can move the chip using keyboard to avoid obstacles, collect points and get it landed right into the jar of dip.
The campaign, which was launched on July 4, also includes on-pack promotion. If you want to get your score featured on the Facebook leaderboard, you have to purchase one of the promotional packs and enter the code. The last prizes will be given out on September 9.