Electrolux named the finalists of the 2011 Design Lab. This is the 9th annual competition for international designers to demonstrate their intellectual mobile innovations. Eight finalists were chosen from 1,300 participants by a jury of expert designers. The jury considered the entries based on intuitive design, innovation and consumer insight. The winner will receive the first prize of a six-month paid internship at an Electrolux global design centre and 5,000 Euros. A second prize of 3,000 Euros and third prize of 2,000 Euros are also on offer.
The finalists concepts are:
1.Robo TAP Cleaner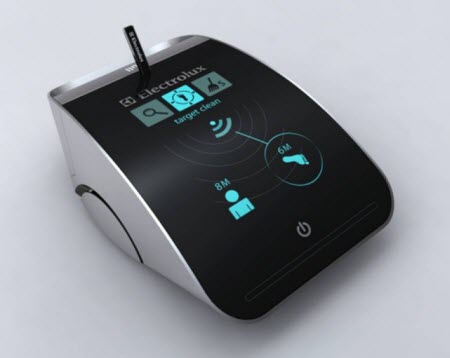 Country: South Korea
Designer: Gyu Ha Choi
School: Handong Global University
The Robo TAP is a smart robotic vacuum cleaner used to target an exact area for cleaning. An IPS system with a simple remote control attached to the shoe of the user, means automated cleaning can be over-ridden. Two taps on a dirty spot directs the Robo TAP to the precise area. Two more taps will cancel the order and three taps returns the vacuum cleaner to regular cleaning.
2. Mobile Induction Heat Plate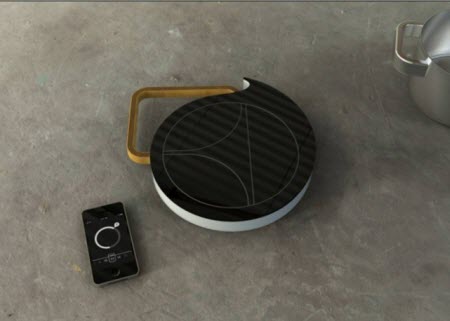 Country: Finland
Designer: Tommi Moilanen,
School: Aalto University School of Art and Design
This is a compact solution for busy modern people. The smartphone app is designed to be used with intelligent food packaging where NFC-tags provide instructions on how to heat the food properly. The child safe remote control is provided. The smartphone app also comes with a memory that intuitively remembers how you previously cooked.
3. Onda Portable Microwave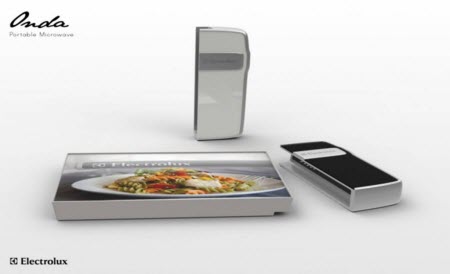 Country: USA
Designer: Matthew Schwartz
School: California State University Long Beach
Onda is slid on to the packaging and the aluminium contained within the interior of the handheld device, creates a circuit connection when the seal of the packaging is broken. Paper batteries are used to produce energy, making the Onda simple, smart, portable, and eco-friendly. The Onda also comes in a range of different colors.
4. Portable Spot Cleaner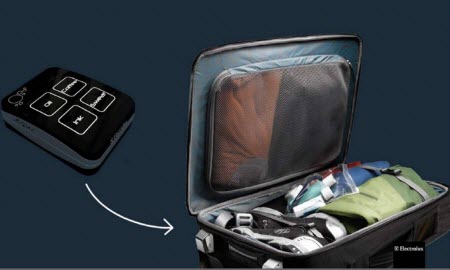 Country: Slovakia
Designer: Adrian Mankovecky
School: Academy of Fine Arts and Design Bratislava
Four pre-installed cleaning programs using negative ions and steam are available for quick and easy use while in journey. Pull the two components apart, place on either side of the garment with a stain or odor and choose the suitable cleaning program. Powered with asugar crystal battery.
5. Ribbon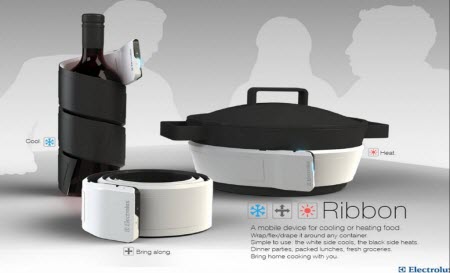 Country: Australia
Designer: Enzo Kocak
School: Monash University
The Ribbon is an all-in-one hotplate, warming device and cooler. Its shape and flexibility allows for wrapping around a vessel containing food or drink for heating or chilling. The black side heats, whereas the white cools. Controls placed on the side makes usage easy. The chargeable thermoelectric cell battery can also reverse the charging process. When not in use the cells convert excess heat back into electricity.
6. Salvé Bagel Toaster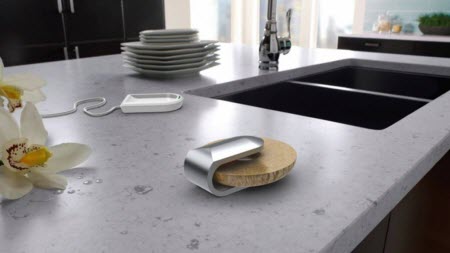 Country: Canada
Designer: Kent Madden
School: Carleton University
Place a bagel in the portable bagel toaster and it will automatically start rotating. The toaster is very energy efficient being run on sugar crystal batteries or recharged on a ceramic dock using induction.
7. Smoobo blender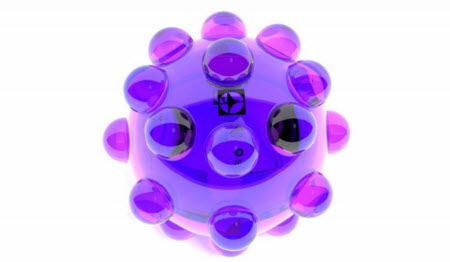 Country: New Zealand
Designer: Roseanne de Bruin
School: Massey University
The Smoobo blender is a new and fun way of making smoothies. Simply put ingredients inside the rubber ball, shut it tightly and start bouncing it around. The bounce activates the kinetic energy batteries that in turn make the rotor blades spin, resulting in a perfectly blended smoothie. The Smoobo surface is made of uneven rubber knobs that makes the bounce even more fun as you'll never know what direction the Smoobo will take.
8. Sous-vide Cellcooker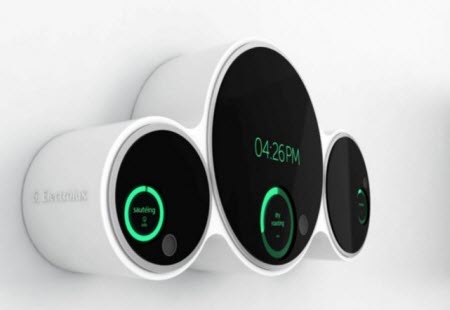 Country: Hungary
Designer: Adam Miklosi
School: University of West Hungary—Institute of Applied Arts
This is for slow food cooking addicts, who want to maintain the integrity of ingredients, while cooking. The Sous-vide will cook delicious healthy food at pre-indicated times and comes with personalised internet- and smartphone software that helps you plan your food menu a week ahead and helps you in buying the necessary ingredients. Ingredients are sealed in airtight plastic bags and held within a water bath for 72 hours at an accurately determined temperature and much lower than normally used for cooking, typically not more than 60 °C or 140 °F.
"The 2011 Electrolux Design Lab has drawn some very clever responses to what has been our toughest brief since the annual challenge began nine years ago." said Henrik Otto, Senior Vice President of Global Design at Electrolux. "The top 25 are to be congratulated on their approach – the combination of lateral thinking and creativity is inspiring. At this stage of the contest, we present the 25 responses that offer the most interesting solutions for future living and best consider the application of intelligent mobility to appliance design."