On July 14, Johnson & Johnson launched, a five-year stategic plan for its citizenship and sustainability priorities called Healthy Future 2015.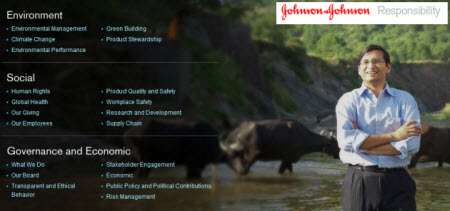 The program embraces the range of broadest and boldest goals that Johnson & Johnson is to achieve in both environmental and non-environmental areas.
«Today the world is facing a number of complex social and environmental challenges, from the millions of people around the world who lack access to adequate healthcare and medicines, to the rising global demand for natural resources in the face of a burgeoning population,» said William C. Weldon, Chairman, Board of Directors and Chief Executive Officer. «Whether it's the private, public or nonprofit sector, we must all play a role, preferably in collaboration, to ensure a sustainable and healthy future for generations to come.»
Healthy Future 2015 follows the Company's commitment to set environmental goals and address global health needs with such goals as targeting affordable access to HIV and TB therapies for populations in some of the poorest countries of the world, and donating medicines for treating intestinal worms in more than 30 countries.
Environmental stewardship is a core focus area for Johnson & Johnson sustainability. The company set its first environmental goal in 1987 and since then has continued to set and meet a series of long-term targets in different environmental areas. The targets are focusing on problems of carbon reduction, water use, paper and packaging, waste reduction, compliance and external manufacturing, among others.
Healthy Future 2015 consists of seven strategic priorities, which, in brief, are:
launching health initiatives to help people gain access to health-related information and advance community wellness;
enhancing outcome measurement in philanthropy;
fostering the most engaged, health-conscious and safe employees in the world by improving upon the company's global culture of health and safety;
building on the company's legacy in safeguarding the planet by reducing the environmental impacts of the operations of Johnson & Johnson and increasing the sustainable design of the company's products;
partnering with sustainable suppliers;
advancing global health through research and development for neglected diseases and affordable access to the company's medicines;
providing transparency about the company's business practices and products, and collaborating with partners.
The launch of Healthy Future 2015 is the next significant step in the sustainability journey of Johnson & Johnson.
The company has recently became a global 'health' sponsor of 2014 FIFA World Cup Brazil.