By saying 'Go Forth' in its new global marketing campaign, Levi's really means it. The jeanswear brand is starting to expand some of its initiatives launched previously on the U.S. market on an international scale now. Levi's, which opened the doors of its first print workshop—the first in the series of such venues—in San Francisco a year ago as part of 'Ready to Work' campaign, is inviting creative talents to another themed workshop, now in Berlin.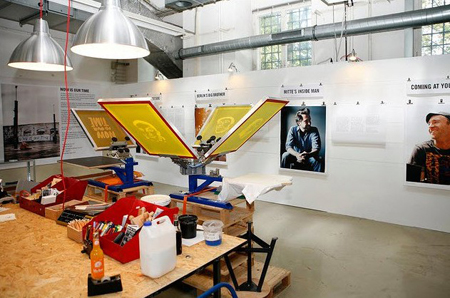 Photo: www.facebook.com/Levis
In the past year, the brand has opened three temporary studios—print (San Francisco), photo (NY) and film (LA)—to celebrate the art of craftsmanship, engage community into a creative process and equip emerging talents with tools they need to create artwork. The Levi's Print Workshop, which is open July 7–August 18 in Berlin's central core, Mitte, in the city's former mint 'Alte Münze' (Old Coin), «will provide free screen printing equipment and supplies, offer a range of daily hands-on activities, as well as host a range of exhibitions and instructional workshops dedicated to the craft of screen printmaking.»
Photo: www.facebook.com/Levis
Local public is offered an opportunity to create hand-printed T-shirts, postcards and digital art pieces with the help of the industry experts. To appeal to the target audience, young and creative people, who prefer to do something to improve the world around them (either by taking direct action or by making something visually beautiful that can impact on others emotionally), has worked with young Portuguese street artist Alexandre Farto, aka 'Vhils,' who created a series of street murals portraying today's Berlin-based icons of pioneering spirit, who embody the 'Go Forth' philosophy—Fadi Saad, Joe Hatchiban, Ralf Schmerberg and design collective Klub7 to name but a few. These personalities will exhibit their own print interpretations at the venue as well, to prove that the talent means action, and they are constantly contributing to their city with their creative works.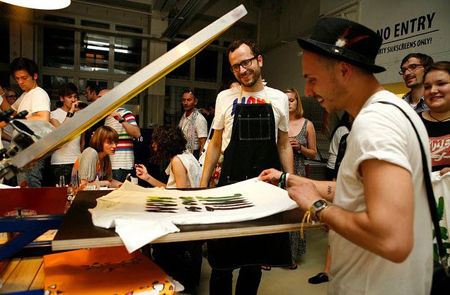 Photo: www.facebook.com/Levis
This is the first brand's workshop in Europe, and so far they don't say if Levi's will open any new spaces like that in other cities and countries.