Levi's has been always committed to celebrating pioneer spirit and empowering youth to create a better world (the recent activities of the brand are revolving around water conservation and creativity) and with its groundbreaking technologies including the Water<Less one, has become an icon of progress, improvement and driving positive change. Last year, Levi's launched its 'Ready to Work' campaign in the U.S. as part of its 'Go Forth' platform revealed in 2009, and now the brand announces the launch of its first-ever global creative platform under the same title with the 'Now is our time' tagline—the new marketing effort is designed to reach consumers in 24 countries via a plethora of media including TV, cinema, print, digital and outdoor in the coming months.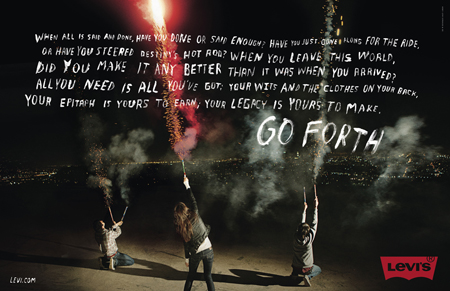 The idea behind the campaign, developed in partnership with Wieden+Kennedy, Portland, Oregon, is revolving around the notion that young people, with their unparalleled desire to drive real change, can change the world for better, no matter how hard the times may seem. "Youthful optimism and energy are at the core of our DNA and this overarching theme resonates with people around the world. Go Forth' is more than a marketing idea. It is also a rally cry; because now, more than ever, the world needs people with a pioneering spirit who still believe that anything is possible. For youth today, optimism is power," commented Robert Hanson, global president of the Levi's brand.

Click to enlarge
The global advertising project kicks off in early August, but those who can't wait to see it, can go to Berlin and attend the Bread & Butter tradeshow (June 6–8) to get a sneak peek into the upcoming integrated campaign. Levi's will continue to support eco oriented activities though its digital platforms, plus "the 'Go Forth' tenets will also inspire the development of Levi's global product lines for 2012 and beyond," states the press release. During the first phase of the campaign, under the 'Now is our time'tagline, they will promote the Levi's Fall 2011 Collection, which will be available starting late summer and include the innovations unveiled by the brand last year—the Water<Less finish concept and the Levi's Curve ID fit system.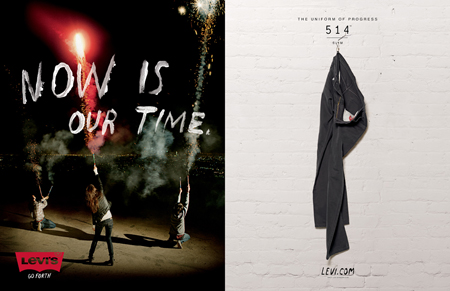 To promote the new campaign built on the successful approach of recent years, the brand commissioned director Ralf Schmerberg to create a 60-second video—the spot features footage taken during a journey from Berlin to the Baltic Sea and the poem 'The Laughing Heart' by renowned American author Charles Bukowski, —and photographers Jeff Luker and Randall Mesdon to create a series of shots for prints, digital and outdoor advertising. Stay tuned in to know more about more details of the upcoming launch.