Campari manages to merge beauty, time, fashion, intense taste and colour of the bitter. How? By launching its awesome calendars featuring most stylish celebrities, who can represent the diverse nature of the drink with a touch of exquisiteness and delight. This year, renowned actress, model, signer and fashion designer Milla Jovovich joined the roster of celebrities, who has been featured in the calendar starting 2000, when it was published first (view all of them here).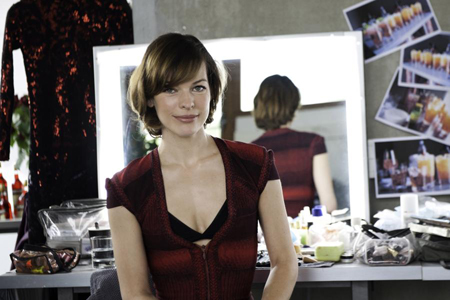 Photo: millajovovichfan.com
"I was very excited and honoured when I heard that I'd been invited to star in the Campari Calendar. It is famous for its incredible photography and the amazing individuals who have appeared in it previously. I think people really will be intrigued when they see the finished Calendar. It will really make them stop and think," shared Jovovich.
The photo session is led by Dimitri Daniloff, one of the best photographers of the modern times, who has also collaborated with a range of brands including Renault, Carlsberg, Kia, Harvey Nichols to name but a few. The official images of the 2012 calendar will be unveiled in Milan in late October, and the brand keeps all the details about what settings and style they've chosen under wraps. Yet, some predictions can be already made: in the backstage photo, one can spot a sparkling dark-red dress behind Milla, most probably, she wore it in front of the camera.
The upcoming edition is the 13th one in the series (we hope, it's a lucky number for Milla)—last year, the hero of the red story was Benicio Del Toro, the first man who got featured in Camapri's calendar. The brand started to invite Hollywood A-listers to get into the red canvas in 2006, asking Salma Hayek to star for its 2007 edition—she was followed by Eva Mendes (2008), Jessica Alba (2009), Olga Kurylenko (2010).