On June 29, PUMA Volvo Ocean Racing powered by Berg Propulsion introduced Laird Hamilton, big wave surfer and father of modern stand-up paddleboarding, as the honorary 12th crew member of the PUMA Ocean Racing team. PUMA and Hamilton unite to search for the world's biggest, ride-able waves and to launch a line of innovative stand-up paddleboards. In addition, PUMA revealed a new youth ocean preservation campaign and presented a mascot, educator and honorary 13th crew member, Marmo.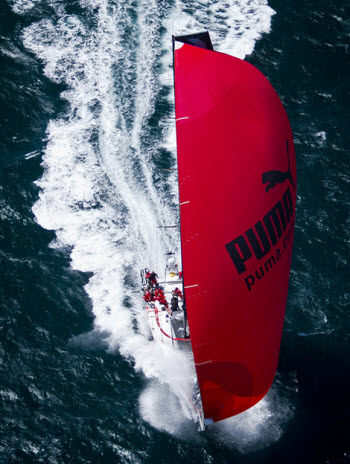 Photo: Dan Armstrong
According to The Daily Sail, the PUMA Ocean Racing Crew starts a search for the world's monster waves during the upcoming Volvo Ocean Race 2011-2012. Skipper Ken Read and the crew aboard PUMA's Mar Mostro boat will help track the world's biggest rogue waves which Hamilton will attempt to conquer, achieving his life-long goal of 'riding giants'.
Using the weather and navigational teams onshore and onboard help to track wave patterns while sailing through the remotest reaches of the world's oceans. As monster waves are found, Hamilton will fly in, prepared to surf them.
"PUMA has a history of unexpected collaborations that change the playing field of the sports we engage in," said Antonio Bertone, Chief Marketing Officer for Puma AG. "The introduction of Laird Hamilton as the honorary 12th crew member on our PUMA Ocean Racing team represents an epic clash of prowess on the ocean. We're bringing together the world's most elite sailors with their counterpart in the surf and paddleboard sector to serve as a key fixture of our Volvo Ocean Race campaign."
An innovative new 'concept' surfboard by a design team that created PUMA's Mar Mostro to life will ensure successful Hamilton's riding the giant waves. Juan Kouyoumdjian, the mastermind behind PUMA's Mar Mostro Volvo Open 70, as well as the boat designer for two previous winning Volvo 70s, ABN-AMRO One andEricsson 4, will collaborate with Hamilton on the surfboard development.
Marmo will star in an illustrated children's book titled 'Marmo Saves Our Seas' created by PUMA to educate children and their families about the importance of preserving the world ocean, which is a part of the PUMAVision Ocean Preservation Campaign. The book will be available in seven languages (English, French, Spanish, Mandarin, Arabic, Portuguese and Brazilian Portuguese).