At all times and under any circumstances, people will buy products while the world exists—we don't talk about utopian societies, of course. With this, the only question here is what people's attitudes to purchasing will be, which countries will start consuming more and which will switch to saving more.
These insights are essential for companies because they enable leaders to shape their marketing policies and choose the right direction now, until their competitors seize the market and it gets too late. While many reviews touch on the current state of business (which can be used for making predictions as well), the most valuable of them are those revolving around forecasting future trends—one of these studies, the recent BCG's 2011 'Navigating the New Consumer Realities' report reveals the tendencies in this field, showing that in the coming years the world's consumer interest will rise in the east and fall in the west in the coming years since consumers in Russia, India and China as the biggest countries of the region, prove to be actively developing their purchasing habits.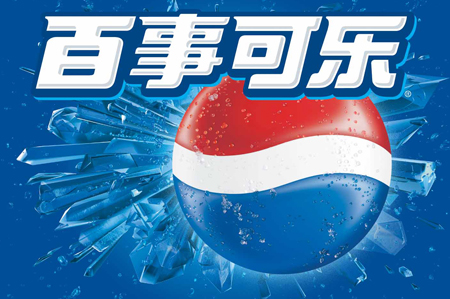 The USA and Western Europe region, where the headquarters of most of the global companies are located, are already not the place where their products are welcomed most—East, Latin America and Africa become the area to where they expand, with all respect to their western background. According to the report, which was conducted in 21 countries among 24,000 people, nearly 90 percent of respondents in developed countries say they plan to maintain or reduce spending, while people from developing countries (China and India in particular) say that they would like to raise it.
Whether it's the result of the recession ("in the U.S., 57 percent of respondents said they have been personally affected by the downturn"), or just a tendency that would arrive sooner or later without any 'help,' people in the western part of the world are not willing to pay more for products by global corporations or even want to cut down on this spending.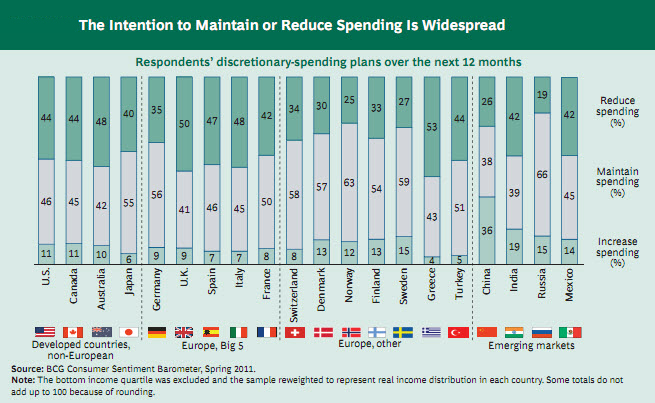 Click to enlarge: Navigating the New Consumer Realities
"Consumers are trading down and purchasing more private-label products because they feel it's important to get a good deal—not necessarily because they can't afford the price," commented Catherine Roche, a Toronto-based partner and coauthor of the report.
"Trading up has shifted from conspicuous to 'conscientious' consumption," says Patrick Ducasse, a Paris-based partner and another coauthor. In fact, the purchasing desire (and this is often followed by ability) is greater on emerging markets—"36 percent of Chinese respondents and 19 percent of Indians said that they plan to increase spending this year," states the review, while in Western Europe and the U.S. the situation is not that 'optimistic.'  So, trading tomorrow will have an Eastern touch, and companies are already taking steps to secure places in these economic hotspots in the months ahead.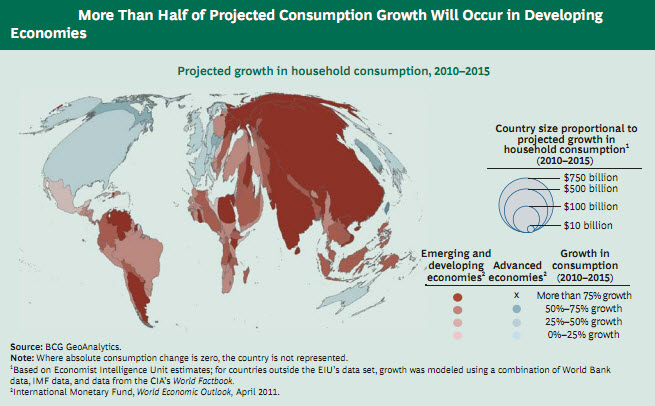 Click to enlarge: Navigating the New Consumer Realities
What are they doing in particular? Despite all challenges (emerging markets usually don't have well-thought and organized financial systems, are affected by corruption, etc.), global companies including Procter& Gamble, Kraft Foods, Unilever, Anheuser-Busch and PepsiCo to name a few have already succeeded there, no matter how tough the conditions might seem. They have five major geographical directions—Russia, India, China, Latin America and Africa—to continue their development. Some producers have to adapt to the tastes of local shoppers or refresh the attitudes a bit by introducing new goods to people who like to refresh their consumer routine.
Some global Western brands launch new products tailored specially for the emerging markets, being not another version of something which already exists, but a totally new brand designed for the eastern regions—for instance, last year, Levi's presented its dENiZEN line for Asian-Pacific region (later it was taken to more countries, including the recent launch in the USA).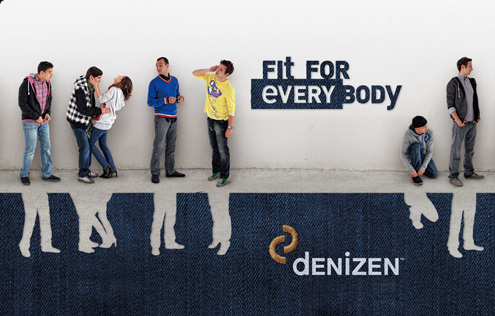 The companies are contributing into their business in these geographical areas very generously. Recently, Nestlé announced it will invest $1.4 billion in Africa "by 2015 to expand production capacity in Africa, where sales growth is outpacing that of Europe and North America," Bloomberg reports.
"We are very bullish about the African continent," shared Frits van Dijk, executive vice-president who heads the company's business in Asia, Africa, Oceania and the Middle East. "The continent will soon have a billion people, and while admittedly income levels are very low, they are rising."
As to India, the largest food manufacturer in the world is to open a R&D center there in 2012 and has announced investment of another $100 million in Indonesia as well as acquired 60 precent of Hsu Fu Chi, a leading manufacturer and distributor of confectionery products. Other industry leaders also contribute to developing economies in such countries as Russia, India, Brazil, etc. along with strengthening their image in these regions.
We won't list all the businesses which are pursuing the goal of becoming an integral part of the emerging markets, just name another couple of giants as an example: in early May, Kraft Foods committed to investing approx. $200 million (its largest investment in the market in more than a decade) in Brazil expansion over a two-year period, while in late May, PepsiCo Inc. also revealed an intention to contribute an additional $2.5 billion in China over the next three years.
Last December, the food and beverage leader also purchased a 66% stake in Russian dairy, baby food and juice manufacturer Wimm-Bill-Dann for $3.8bn—a very smart move, considering the fact that, according to the A.T. Kearney's business journal, "in the next 10 years, Russia is poised to become the largest consumer market in Europe." The source also states, that the country is now PepsiCo's number two market globally, and "Danone owns 20 percent of the dairy market and is the country's largest dairy producer following its $2.8 billion acquisition of Unimilk."
Russia does show promise. According to The Futures Company Global Monitor 2010 (as noted here), 75 percent of Russian consumers now prefer to buy product by manufacturers they trust and know where the products have come from (see the chart below). At the same time, 73 percent of people there say that they would like to purchase goods from a company, which has a long history of market presence (because it proves they make best quality products). It's the highest rate—69 percent (the second highest) and 52 percent (the lowest) of respondents think so in China and France, correspondingly.
Speaking of China, one of the biggest soft drinks corporations, Coca-Cola Ltd., considers it as one of the biggest markets in the future and spends billions of dollars on its development—in 2009, the corporation announced it would "invest $2 billion in China over the next three years, with the money going towards new plants and distribution infrastructure, sales and marketing and R&D," according to The Wall Street Journal.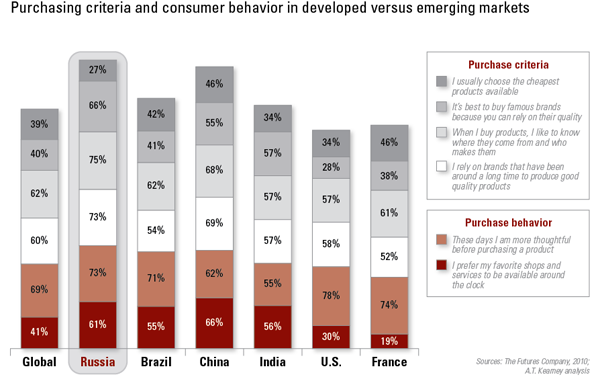 Click to enlarge: The Futures Company Global Monitor 2010
In the A.T. Kearney's Riding 'Russia's Consumer Boom' paper, they reveal five major fields which turn to be the toughest challenges for marketers in Russia (which are also true for other emerging countries):
1) Capturing the next consumer wave (focusing on value, respecting people's will to buy home-grown products, novel shopping experiences);
2) Improving the 'ease of doing business' (lobbying for positive changes in import procedures, approval documentation, etc.);
3) Strengthening the investment environment and operations (advertising, distribution, operational excellence, etc.);
4) Winning the 'war for talent' (lessening the brain drain);
5) Investing to capture emerging trends (infrastructure development, sustainability practices, etc.).
All of these areas should be improved, but the companies can operate even in these conditions, since most of global western companies are already present on the eastern markets for years, even under the pressure of local imperfect systems. Of course, they wouldn't invest billions of dollars into the regions without a strong confidence that the money will be paid back.
Yet, some companies can't manage this pressure and have to retire—in late June, Campbell Soup Co. said it was exiting Russia after four years of presence on the market. The more people live in the region, the more money they earn, the more they want to consume. So, the business center will remain in the western part of the planet and the consuming one will be located in the east—is this the most beneficial balance for the world? Or maybe, the pendulum of consuming will swing in the next century and the consuming center will go to the West again?