Umbro is currently promoting the New York Cosmos Blackout Collection of soccer wear.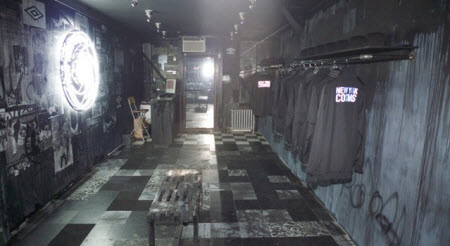 Photo: umbrofootball's photostream on Flickr
The promo is supported by the 'Blackout', an animated b&w short film, the story of Brazilian soccer star Carlos Alberto Torres' arrival in America to sign his contract with the Cosmos on July 13, 1977, the day of the infamous 1977 Blackout. Narrated by the man himself, it tells the Blackout story.
To celebrate its new black on black range for the returning New York Cosmos football team, Umbro put together a gallery of cool black items on Pinterest, a new social site that lets you compile and organize images of the things you like.
Last week Umbro opened a pop-up shop at the Reed Space in New York inspired by the NYC blackout of July 1977. The space design recreates the look and feel of the times, with plenty of black paint. The shop opened with a party in that time style.
«We were able to experience everything that was great in the city at that time. The boom in disco music, in football, everything was happening in New York at the same time. All good things! It was a wonderful time to be in the city,» said Torres in an interview on Umbro's blog page.
The Cosmos Blackout collection present products that are black on black, but it is with flashes of color and texture through the use of embroidery, UV responsive paint and reflective prints. The range, which includes a Blackout version of the celebrated New York Cosmos home shirt and a Blackout Cosmos Walkout jacket, perfectly reflect's the club's heritage and history.
Umbro signed the woldwide kit contract with New York Cosmos last fall.