On July 20, Unilever's LUX brand expanded boundaries of common marketing strategies and entered the gaming area. The brand signed an agreement with Farmville Chinese and launched a limited-edition event called, 'LUX Fantastical Manor.'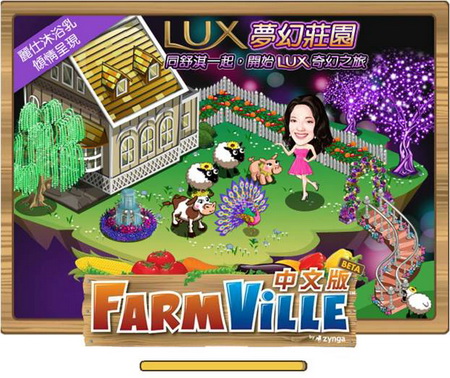 Created by international advertising agency JWT and the leading social gaming developer, Zynga, 'LUX Fantastical Manor' is a one-month long event (till August 16) on Farmville Chinese.  The event gives gamers an opportunity to give a more attractive look to their farms, adding LUX limited edition beauty items while interacting with LUX Body Wash's Asian Icon, Shu Qi on her LUX branded farm.
Players who visit Shu Qi's farm are rewarded with a virtual currency: Beauty Potion. Gamers receive LUX Beauty Potion by harvesting Shu Qi's crops, collecting Potion on their own farms, and by sending and requesting Potion with friends to increase their virtual revenue.
The Potion is used to buy LUX beauty items and beauty crops inspired by the brands' products: fast growing Apricot and Cherries, a Cooling Mint Tree, and a Fragrance Tree; as well as Silk Protein Extract to use for glamorizing farm animals. These items and crops can be purchased from the game store.
Severine Vauleon, Global Brand Director of LUX said, "People are spending more and more time in social games, with Farmville the #1 played social game globally. Many multinational brands have yet to tap into the massively growing Chinese speaking audience online. With LUX 'Fantastical Manor' we are introducing a fun, interactive way to engage the Chinese speaking LUX consumers in Malaysia, Singapore, Hong Kong and Taiwan who are avid players in Farmville Chinese."
The initiative is the first step of Unilever and LUX's in the field of social gaming. More information about 'LUX Fantastical Manor' is available on the game web site and Facebook app.
In March Unilever presented a short film featuring Catherine Zeta-Jones to mark LUX relaunch.