Giant companies provide vital support to small enterprises, giving people behind them with an opportunity to expand their business and make it big, doing small things. The team of big corporations, which already includes Cisco, American Express and Facebook to name but a few, is now joined by Dell, which is offering small businesses in the USA a chance to win $25,000 in its products preloaded with Windows 7 Professional & Office Home and Business, a $50,000 prepaid card from MasterCard, and their own online reality show. The submissions to the America's Favorite Small Business competition are accepted on a dedicated page on YouTube through September 11.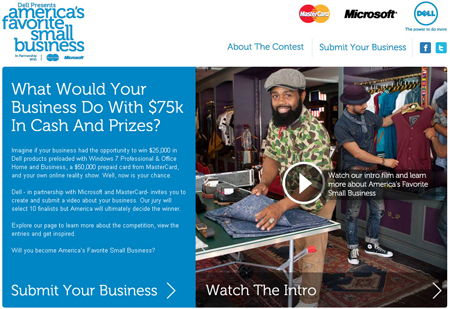 Now, the hub features a few videos with stories, which will inspire entrants to create their own 3-minute (max) films, revealing the philosophy of their tiny enterprises (there must be from 1 to 25 people in the participating company). Dell says that the most important thing about the videos is that they should help discover the unique story behind a business and personalities who started it. The jury panel will then select 10 finalists, who will be competing for the prize valuing $75,000 in cash and products. Since the name of the competition is America's Favorite Small Business it's up to the nation to decide who will scoop it all—the public voting will start on October 16.
One of the businesses, which are posted for inspiration, is The Brooklyn Circus. Here's a short description of the company: "Founded in 2006 by graphic designer Ouigi Theodore, The Brooklyn Circus is more than just a small clothing store hidden in Boerum Hill, Brooklyn. It's a destination for open-minded forward thinkers that understand that style is another form of communication. Ouigi and his partners design and manufacture quality garments made in the USA. Their unique designs, paired with an incredible attention to detail, have earned them a devoted clientele from all over the world. Ouigi says that technology has played an essential role in the success of Brooklyn Circus because it allows them to engage and expand their audience in personal and meaningful ways." Watch the rest of the spots and submit your own on the www.youtube.com/user/dellbusiness channel.