As a part of our research on the UK-Russia collaboration in the area of brand and design, we at Popsop have decided to interview the top-notch UK brand industry stalwarts well-known in Russia for their branding work done for the local clients.
Without a doubt, FITCH heads the creative 'list' of pioneers who dared to enter the Russian market and make a difference on it, literally, by changing the perception of branding as a key value for some biggest (and the most successful in their segment) Russian businesses to date.
We had a pleasure to ask Elena Chuvakhina, the Head of Business Development, Russia at FITCH about how the company's 'success story' in Russia began and what their future expectations on working in Russia are.
E.B.: Elena, you've been a key person in FITCH's work in Russia. In short words, when and how did your 'success story' in Russia start? Did you aim to enter the new market and put some efforts to establish awareness in Russia then?
E.C.: I joined FITCH in early 2006—at that time our company had completed its first project in Russia with White Wind Digital and was working on a big rebranding programme with the Russian Post. FITCH management felt that the Russian market has a great potential for branding and design, and invited me to join the team to develop FITCH business in Russia in a focused and proactive manner. Already at that time we could see a strong demand from Russian companies who wanted to adapt the Western branding experience to their own needs and tasks. Some sectors of the Russian economy—like Retail, and Consumer Electronics/Mobile sectors in particular—led the way in applying international branding Best Practices to their businesses and FITCH had a lot of expertise to share with them. This is how our "success story" in Russia started and we are very pleased to say that it continues today!
E.B.: Now FITCH is strongly associated with "pure British design" in Russia and mostly regarded as a retail design expert here. In your opinion, is this area of design expertise in greater demand among Russian businesses now?
E.C.: British design as a discipline is well known around the world for its long history, established traditions of quality and high standards of professional education. This is one of the reasons for high interest in British design and branding expertise. Another reason is that Russian businesses observe market situations abroad. Russian businessmen see that UK is one of the most competitive markets worldwide—from which they can learn a lot. After more than 40 years of FITCH performing worldwide, we know how to help brands become truly unique in their offer and positioning. This is what our clients want to see. Retail has been one of the fastest growing sectors in Russia over the past 10 years—and has now become one of the most competitive sectors in Russia from Marketing point of view. As a result—many Russian companies are seeking the British retail design expertise—and FITCH is very happy to be able to provide it to them.
E.B.: Please, tell us about the Sberbank case study. As you may know, the idea of the Sberbank rebranding had provoked in December 2009 (at the peak of recession) a huge negative response from the Russian public and was considered 'money laundering initiated by the Russian government'. Did it affect your business image and reputation in any way, as FITCH were the design partners behind that project?
E.C.: We are proud of the work we've done for Sberbank. This has been a complex project touching all aspects of the positioning for the biggest retail bank in Russia, and absolutely necessary for Sberbank.
It is normal that such projects which touch "national" brands (which Sberbank obviously is) raise a lot of discussions—it is simply not possible that everyone will be happy and have the same opinion. Now that some time has passed since the launch of the new brand and retail concept for Sberbank, people see the results—we know that a lot customers of the rebranded Sberbank branches mention that the service and the atmosphere have improved greatly.
In terms of FITCH image in Russia, the effect has been positive—we have had a lot of interest from different clients about this project.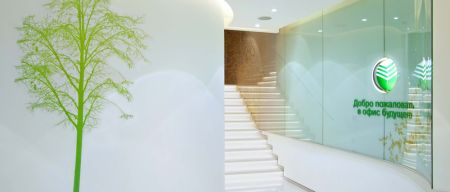 Photo: Sberbank's new branded interior
E.B.: By now you've had an impressive portfolio of works for the biggest Russian companies, such as Pochta Rossii, Sberbank, Detskiy Mir, White Wind Digital, Centrobuv to name a few. At the moment, looking back for the huge work you've done, can you specify any peculiar features which are common for a typical 'Russian project'? Is working with Russia any different compared to the UK or other international clients: in terms of pitching, negotiations, project communication, financial benefits or risks?
E.C.: Speaking about the "Russian projects" in general we can definitely see a growing understanding and appreciation of branding in Russia. We see this from the quality of the briefing documents we get from our clients, as well as from the thinking that our clients bring in to the projects.
In many ways our work process in Russia is very similar to our work process in the UK. It involves a lot of regular, on-going communication with the client during a project and discussing any issues and expected results well in advance.  It is a very collaborative and structured process—our clients always know what we are doing now and what the next steps will be.
At the same time, like in most of the international markets, doing brand design in Russia has its specific features. For example, project deadlines are often much shorter and tighter in Russia compared to the UK. This is driven by the commercial realities of the Russian business. Generally there is a higher volatility in the market—resulting in companies' acquisitions, mergers and restructuring. All of this has a direct impact on the branding projects we do. As a brand design agency you may start a project with one company and finish it with a different structure and with a different brief. Therefore one has to be prepared to be quite flexible in understanding these realities of the Russian business and being prepared to work with them.
E.B.: How do you usually manage communications working with a Russian client from London? Do you have Russian speaking account and PR managers on your London team? Have a so called 'cultural gap' ever been a problem in your practice?
E.C.: From the early days of working in Russia we realised the great importance of building a Russian team that could help us build strong relationships with our Russian clients and could act as the "cultural ambassadors" between the London design studio and our Russian clients. We have a Russian team made of Russian nationals in our London studio. Our Russian project managers—together with the design and strategic team — travel to Russia to meet our clients on a regular basis. Many of our designers and insights managers have experience of working in Russia and know the market well, so basically we have never had "cultural gaps" as such. I think my colleagues from FITCH studios in the USA and EMEA will agree—having the experience of working across different continents we know how to avoid these gaps.

E.B.: What's your long-term strategy towards Russia? I know that you are about to open an office in Moscow later this year. Is that correct? How shortly expected economic recession may affect your plans?
E.C.: Russia remains one of the priority markets for us and we hope to have more Russian projects in the future. We are indeed regarding the opportunity to open an office in Russia but this is more likely to be decided next year. Of course economic recession may affect our plans, and not only ours. The last time there was a global economic recession it showed that the brands that came out the other side on top were those who continued to invest in their brand development even at the time of recession.  Those who adapted themselves to the changing landscape of competition, changing customer mood and behavior etc were the least scathed by the events. Thinking strategically and being flexible helped them to survive and I believe Russian businesses will understand this as well.
E.B.: Elena, as an industry 'veteran', do you think if Britain's creative industry needs 'new markets'? If so, what kind of UK agencies could be potentially interested in entering the Russian market?
E.C.: I think historically, Great Britain has a great tradition of opening and developing new markets in different sectors—and creative industry is no exception. In fact, British brand design agencies have been among the most proactive and successful in Russia among its European and North American colleagues. I see that this trend will continue and that even more British agencies will be actively working in the Russian market in the future.
E.B.: Do you know any professional commercial organizations helping the UK creative agencies find clients in Russia and CIS? Any specific government programs for the creative industry in the UK?
E.C.: Not really, we have never worked like this before. We have been contacted directly by our clients.
E.B.: What would you recommend to your peers who are looking to expand their client base internationally?
E.C.: To any of my colleagues looking to develop their business in Russia, I would recommend researching the market and particular sectors where their set of skills could be applicable – well in advance.
I would also recommend being very flexible, being ready for a constantly changing and dynamic business environment that requires quick reaction and response.
We at FITCH have had some of our most rewarding and memorable projects and experiences in Russia—and we look forward for these experiences to continue for many years to come!
I believe that entering a new market requires market understanding in terms of most perspective economic sectors, retail sectors and level of development of design industry.