Celebrating further expansion into UK supermarkets, Northern Ireland's favourite craft baker, Genesis Crafty, has commissioned branding specialist Brandhouse and new media agency Matmi to develop a promotional game. The free-to-play social game, 'Knead for Speed,' helps to tell the Genesis Crafty story through social game play, and features the company's six founding brothers in a stick men bake-off of epic proportions.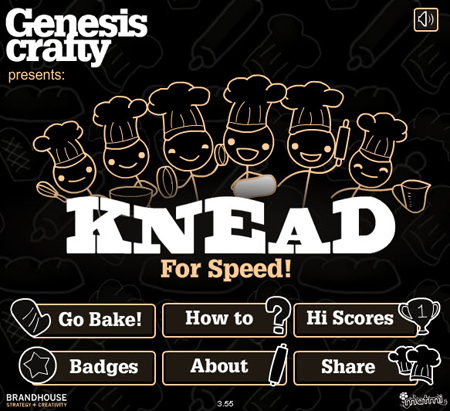 Marketing Manager at Genesis Crafty, Liesa Johnston, says, "With our recent expansion across the UK, Waitrose, Sainsbury's and recently Tesco, developing a social game felt like a natural progression. We wanted to provide an exciting introduction to the brand that left the consumer eager to try the products. Brandhouse and Matmi have excelled in delivering an innovative and fun game, which successfully incorporates the heritage of the Genesis Crafty brand."
Mark Rae, Business Development Manager at Brandhouse, the branding agency behind the game's strategy, says, "It's a pleasure to work with a brand such as Genesis Crafty, which has a story that enables a strong emotional engagement between brand and consumer in the digital marketing channel. Throughout the game we have ensured consumers receive an interactive education into the high quality, handmade products launching in the UK, whilst remaining faithful to the story of Six Brothers, Six Bakers, at the heart of the Genesis Crafty brand."
The game features ten increasingly intricate timed levels. Two of the company's baker brothers are busy making dough for ten types of real Genesis Crafty cakes and breads. Players decide what to bake, turning, kneading, chaffing and flipping the dough between the four other brothers and into the ovens.
"Knead for Speed has been a real meeting of Bread Heads," says Jeff Coghlan, CEO at Matmi, the new media agency which handled the implementation of the game. "Genesis Crafty is a fun and quirky brand that lends itself perfectly to a branded entertainment release. The stick men brothers get a new lease of life in wonderful animations, and have plenty of floury fun with players while they show off the company's traditional baking by hand. The game's socially integrated with full sharing capability through Facebook and twitter. It's bagels of fun and very flavoursome—enjoy!"
Knead for Speed will appear on Genesis Crafty's website and Facebook page, and make a bid for UK 'doughmination' through a follow-up Brandhouse/Matmi seeding campaign.